Holiday Outdoor Decor's Season Prep Checklist
There is a crisp chill in the air, and leaves are falling. The days are getting shorter. It is a time of anticipation, for the Holidays will soon be upon us. Cities, towns, and retail spaces can bring the magic of the season to life for one and all, big and small. Many communities choose to increase foot traffic and sales to their downtown, Main Street, or commercial spaces by offering residents festive holiday displays. Holiday decor creates a sense of pride and community engagement when towns and businesses become popular, lighted holiday destinations.
This post will share products and ideas to help you bring your ideal holiday display to life. Presenting – Holiday Outdoor Decor's Season Prep Checklist! 
Oh, Christmas Tree…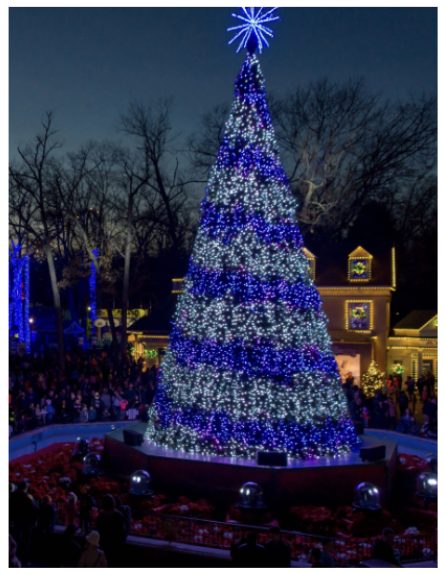 Christmas Trees are the premiere holiday symbols, and beautiful, lighted Christmas Trees attract visitors near and far. A one-of-a-kind panel tree from Holiday Outdoor Decor will elicit lots of oohs and aahs. If you are shopping for a Christmas tree, know that panel trees offer several distinct advantages, including 
Foliage for a realistic daytime appearance

Lighted branches for nighttime glow

Pre-lit panels that arrive ready to be plugged in

Easy installation

Simple breakdown for storage  

The ability to add ornamentation for extra impact
Click here to explore Holiday Outdoor's exciting collection of panel trees.
What types of bulbs will light your trees?
There are several sizes and types of Christmas light bulbs from which to choose. If you want to replace or upgrade the lights on your existing tree, you must first know your light type. Possible types include mini lights, C-7s, or C-9s. Mini Lights are the smallest, offering a delicate option. C-7s are the next largest at 2" x .85", and C-9s measure 3" x 1".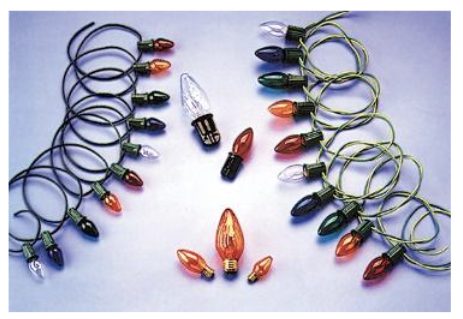 Once you have identified the bulb size, you must decide between incandescent or LED bulbs. Lighted displays may be lamped with either. While incandescent bulbs have that timeless, nostalgic feel, LED bulbs are an excellent choice to decrease costs and energy usage.
How many lights make your tree glow?
Have no idea how to figure out how many lights you need for your specific Christmas Tree? Here is a helpful calculation for C-7 or C-9 bulbs: 
Take the height of your tree times (x) the width of the base x 3.5. 
So, if you have a 22 ft. tree with a 12 ft. base diameter, your calculation would be 22 x 12=264 x3.5 = 924 lights! 
As always, for questions about lights or anything Christmas – Holiday Outdoor Decor Design Consultants are always available to assist you. Click here to find your location's representative and contact them directly, or if you prefer to phone, call 1-877-444-8888.
Do you have enough bulbs for ALL your decorations?
Part of Holiday prep involves replacing bulbs and miscellaneous lighting necessities. To simplify the process, you can use these simple steps to help you know what you need.
Step 1

Evaluate your decor to determine lighting or decorations that need replacing.

Step 2

Use this handy bulb cheat sheet to order the bulbs that coincide with your specific decorations:

🎄C-7 bulbs are usually found in silhouette decorations, which are comprised of lights with garland.

🎄 C-9 bulbs are usually used for perimeter (roofline) lighting and decorations comprised of both lights and garland.

🎄  Mini LEDs are often chosen to light up the branches of trees. The M5 Lens is a versatile lamp for use with trees and bushes, and Wide Angle Lights produce a strong, intense light to set tree limbs aglow.

🎄 C-6 lights create a full glow to light bushes and evergreens.

🎄 Specialty lighting offers that WOW factor. Specialty lighting includes such products as rope and strobe lighting, icicle lighting, snowfall tubes, and spheres. 

Step 3

Don't forget the hardware … Clamps and cords and plugs – oh my!

Holiday Outdoor Decor supplies everything you need to ensure your display is perfect down to the details. Click to browse display accessories, including 
Do you have the essentials for your pole decorations?
Pole decorations complete your one-of-a-kind winter wonderland. Holiday Outdoor Decor has everything from lighted pole decorations to garlands to beautiful bows! Click here to look at our HUGE variety of Pole Mounted Decorations. 
Various lit and unlit pole decorations are available to suit any need. In addition, you can purchase replacement hardware or bulbs.
Will you wrap your light poles with lighted or unlit garland?
Both lighted and unlit pole wraps offer festive accents to spruce up streetside displays. Here are a few things to consider regarding pole wraps:
Garland pole wraps for standard downtown light poles usually measure between 12 and 15 ft.

You can choose between Natural Branch Garland, which looks real, or a PVC Metallic Garland that comes in colors such as Red, Blue, Green, Gold, and Silver.

Pole wraps can be lighted with C-7 lamps or ordered without lighting.
Bows, bows, and more bows
It's incredible how the little details, such as bows, can make for a picturesque, cohesive holiday scene. Each component of your holiday display helps it to come together ideally. 

Nothing can brighten up your Main Street or Downtown area like great bows! Holiday Outdoor Decor can make your dream bow a reality, from weatherproof vinyl and nylon to traditional flocked, glittered, velvet and metallics. Click here to find out more about our bow selection. Bows come in many different sizes and styles, and there is sure to be a bow perfectly suited for any display.          
This is the year of your dream display!                   
Remember, this is the year your city, town, or commercial space becomes a holiday destination with incredible commercial Christmas decorations from Holiday Outdoor Decor. Whether upgrading or supplementing your current display, Holiday Outdoor Decor has everything you need. 
Don't forget that custom decorations are our specialty at no extra cost! If you have something special in mind, reach out to us at 1-877-444-8888. One of our highly knowledgeable staff members will be more than happy to make your dream a reality. Holiday Outdoor Decor can handle all the details from creation to installation to take down and storage. We hope to help you create your dream display this Holiday Season!