All machines feature true variable control, high and low fan settings, DMX control and remote control, at least a 5-liter tank, can control the size of flake, compatible with both types of snow fluids and scents. All include a 2-year warranty and instruction manuals for easy installation.
Boreas S4 (good)
The most economical "Professional" model is perfect for scenes in an indoor display or a small-medium outdoor space. You can adjust flake size and snow output as you need via remote control!  Adjustable Output & 2-Stage Fan Speed lets the user take control of how much snow is output and flake size.  This model also includes a hanging bracket to hang in trees for a true snow falling experience. Includes Boreas S4 model, installation instructions and hanging bracket.
Features:
Two Stage Blower Fans - The S4 features a 1350W High Fan Setting and an 800W Low Setting, allowing the user to choose the output and audio level that is best suited for their needs.
True 0-100% Variable Control - The included remote allows the user to choose any flake size with the turn of a dial. The S4 features almost dust-sized particles at the low end and heaps of heavy snow at the high end.
DMX Compatibility - 3-pin and 5-pin DMX ports allow the user to seamlessly integrate the machine with existing light shows and effects
Large Fluid Tank and Hanging Bracket - The S4 can hold up to 5 liters of snow fluid, meaning it can be run for a very long time on lower output settings. The included hanging bracket allows for maximum flexibility in installation and usage.
Runs at 300ml/min with a max run time of 50 min at max output. Each gallon will last roughly 50 min at max capacity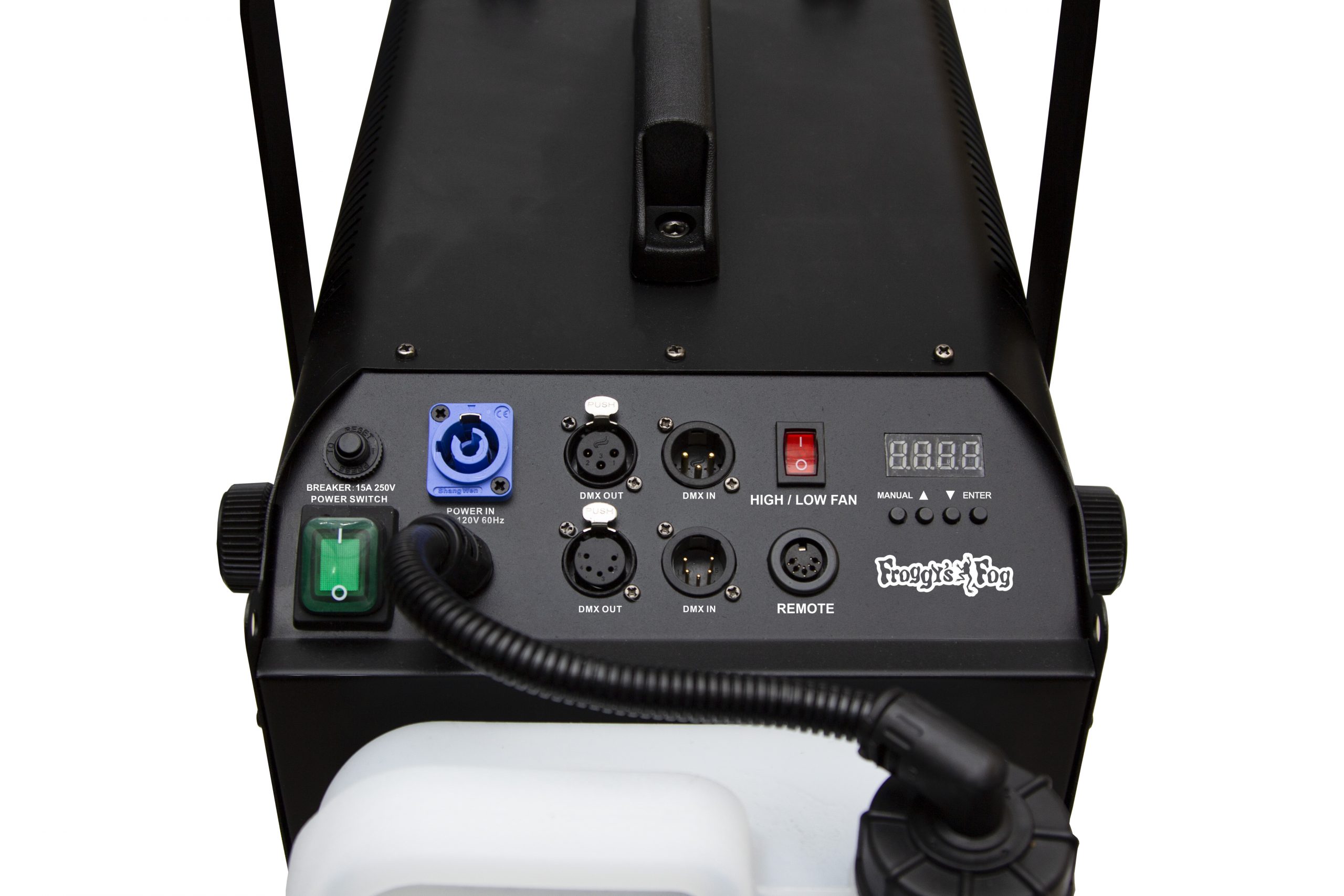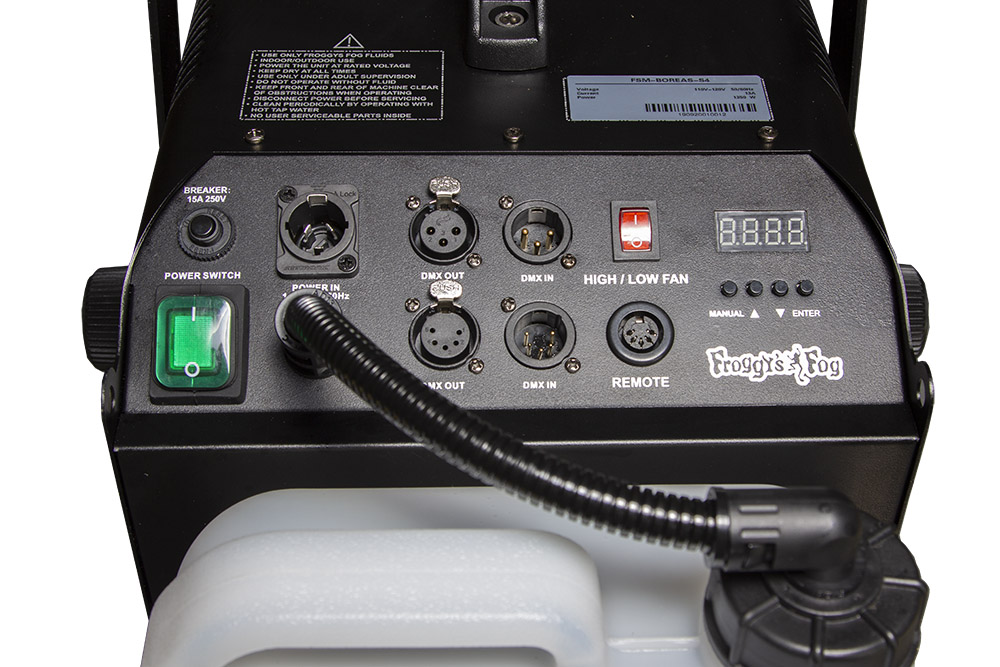 Boreas C6 (better)
This machine is much quieter than its Boreas S4 sister. Perfect for plays, scenes with talking, "Santa' scenes and more! With all the same great features as the Boreas S4, it has bonus features including an onboard menu as well as remote and DMX control. Includes Boreas C6 model, installation instructions and hanging bracket.
Features:
Incredibly quiet operation - The Boreas C6 was designed specifically for use in live performances.  

Long Throw Distances - Up to 30 feet of projection in still-air environments. Angled output nozzle for additional height boost. 

Fully Variable Output - Precisely control both the fan and fluid output from 0-100% to dial in the exact effect of your choosing. 

Simple Controls - Program the machine directly from the LCD menu or connect to your DMX console of choice for convenient control.  

C6- 63ml/min with a max run time of 15 min at max output.  Each gallon will last roughly 54 min at max capacity

The C6 can cover up to 430 sq ft when mounted about 16 feet and 320 sq ft when placed at ground level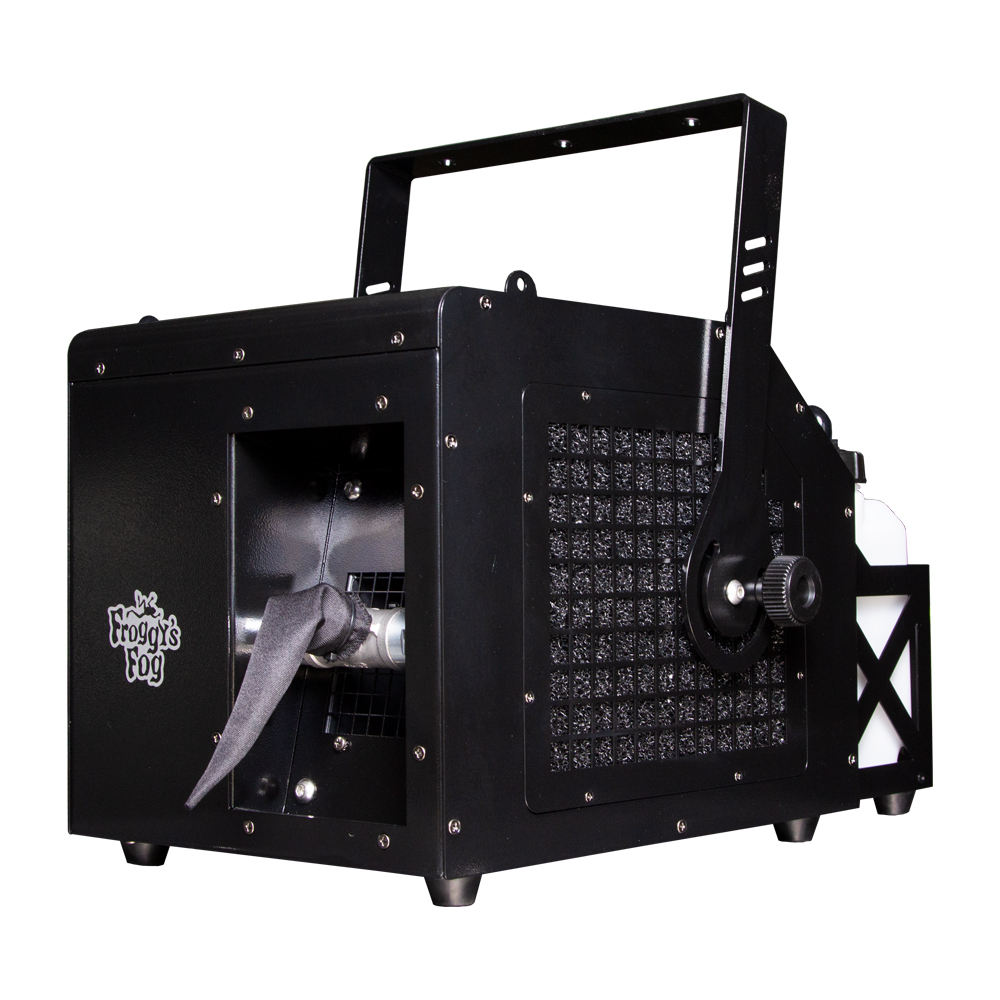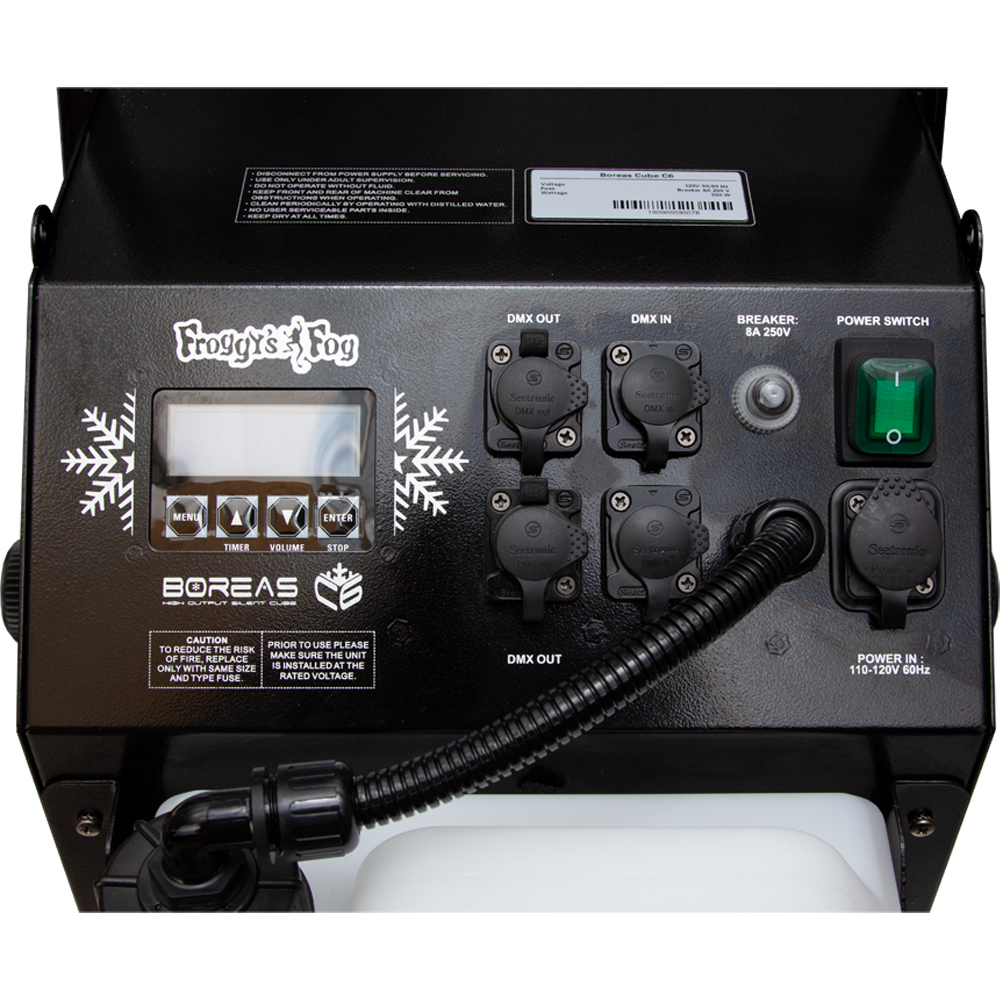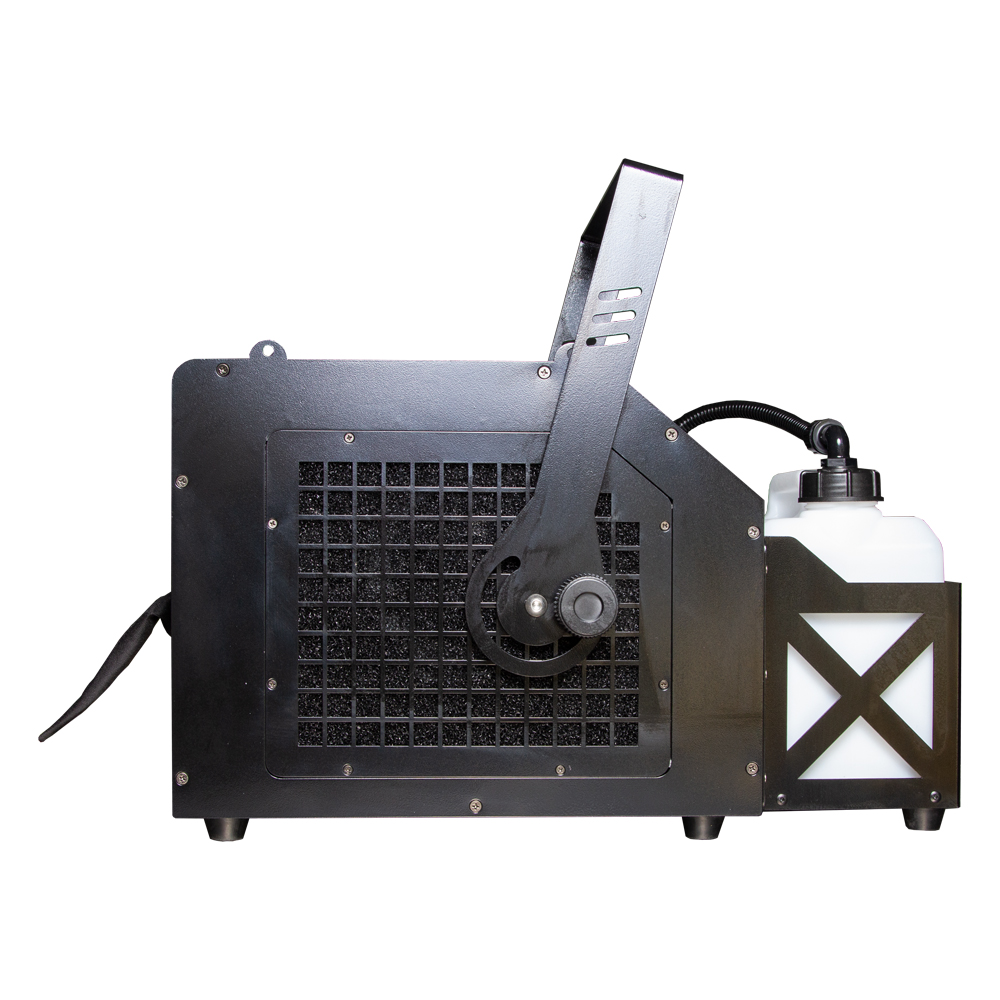 Antari S-500 (Best)
This machine is far superior than its Boreas counterparts. The Antari S-500 has a whopping 20liter tank for extended run times. Includes Low, medium and high output and adjusted flake size, this machine can run for quite some time, silently. Best for larger scenes where you want to cover a large area in snow. Includes a 30-foot hose so you can place the machine out of sight and control precisely where you want your snow to go. This unit is housed in a rolling case for easy moving and storing.
Features:
Large Fluid Capacity - A 20-liter fluid tank comes standard with the S-500, making it perfect for applications that call for extended run times.

Fully Variable Output - Adjust the fluid and fan speeds to create the exact size snow particles needed for your application. 

Convenient Mounting - Use the 30 feet of extendable hose to mount the output nozzle in whatever location is most convenient.  

Simple Controls - Choose your settings directly from the machine menu, or control the unit via DMX.

Output 400ml/minute!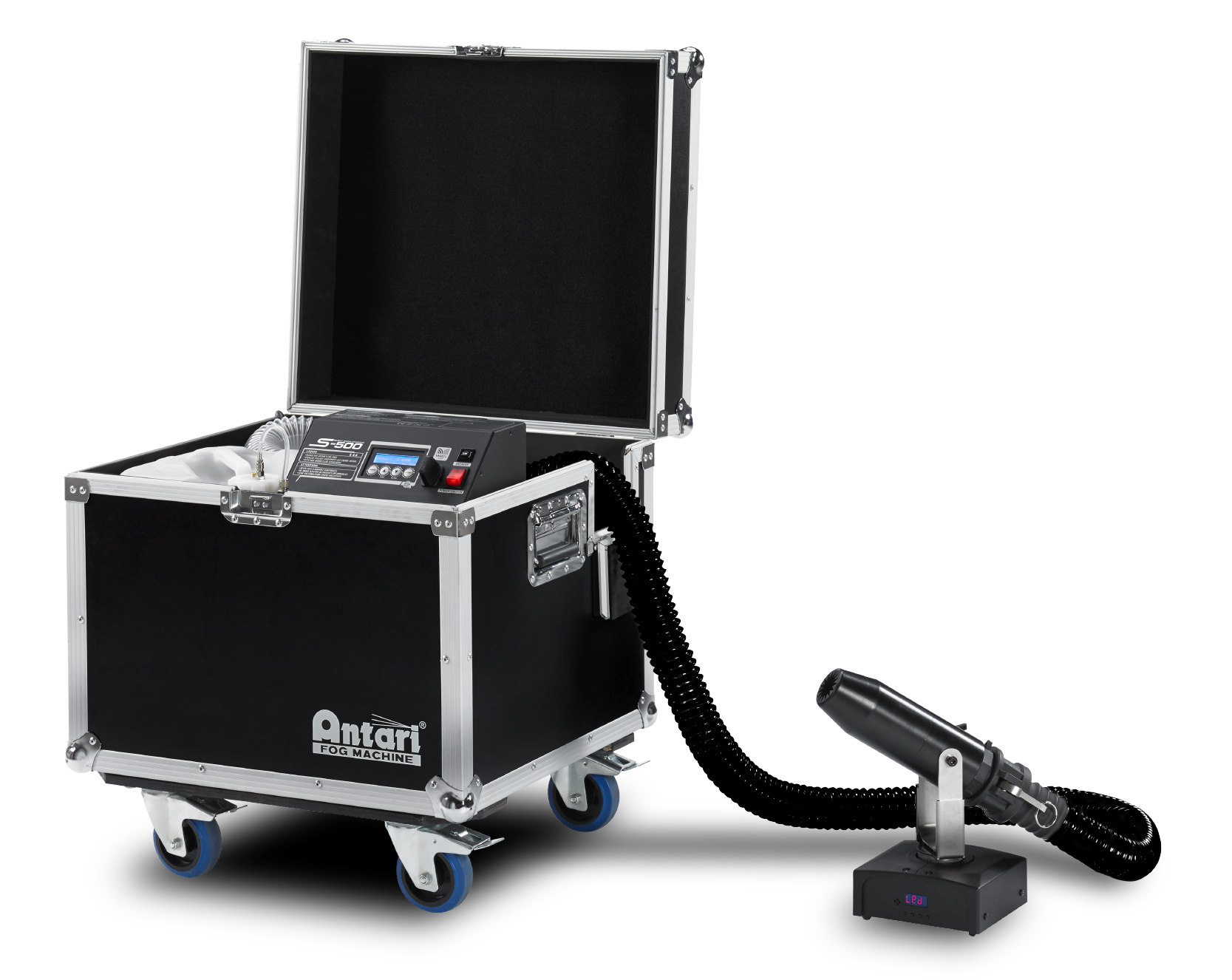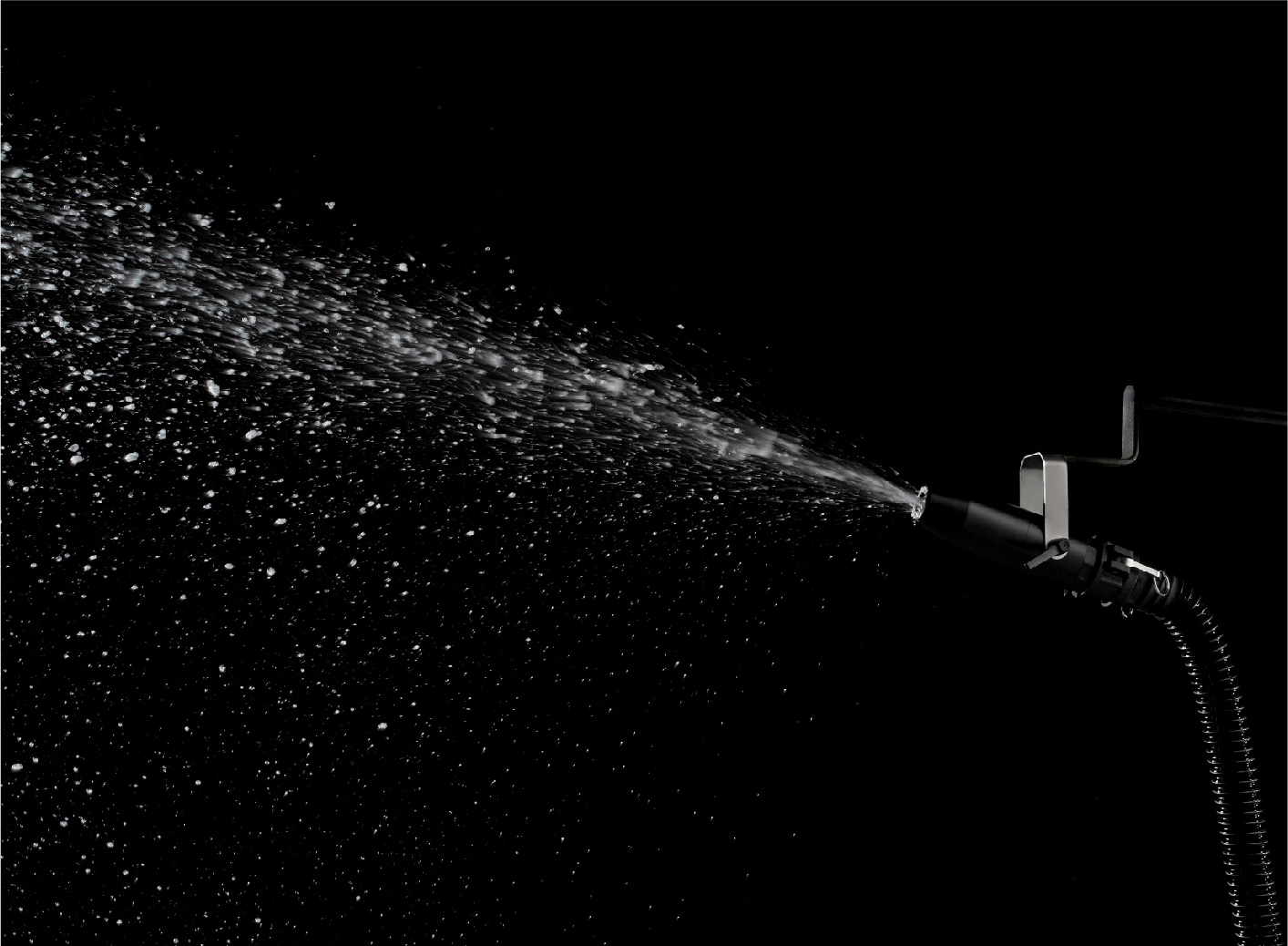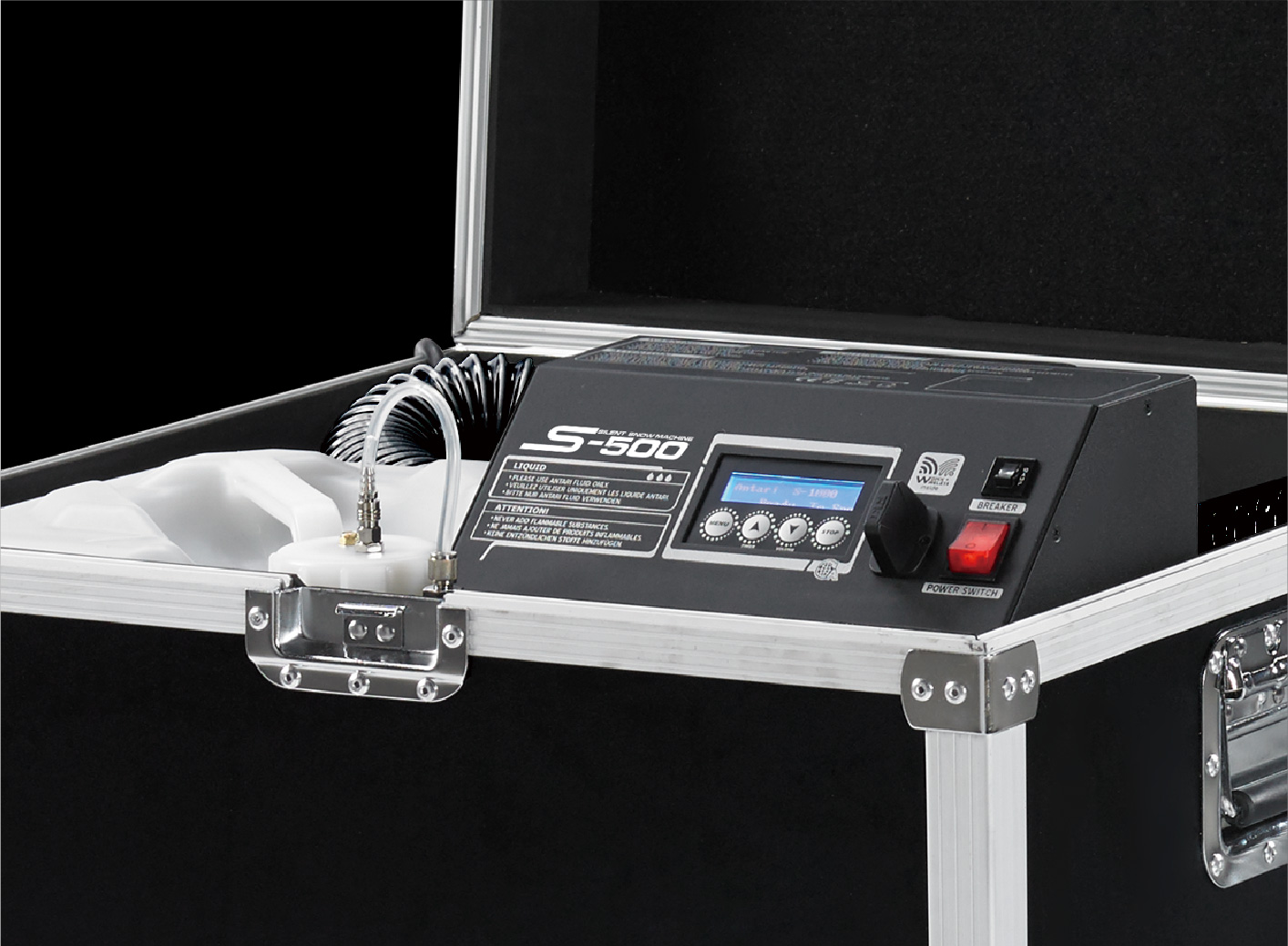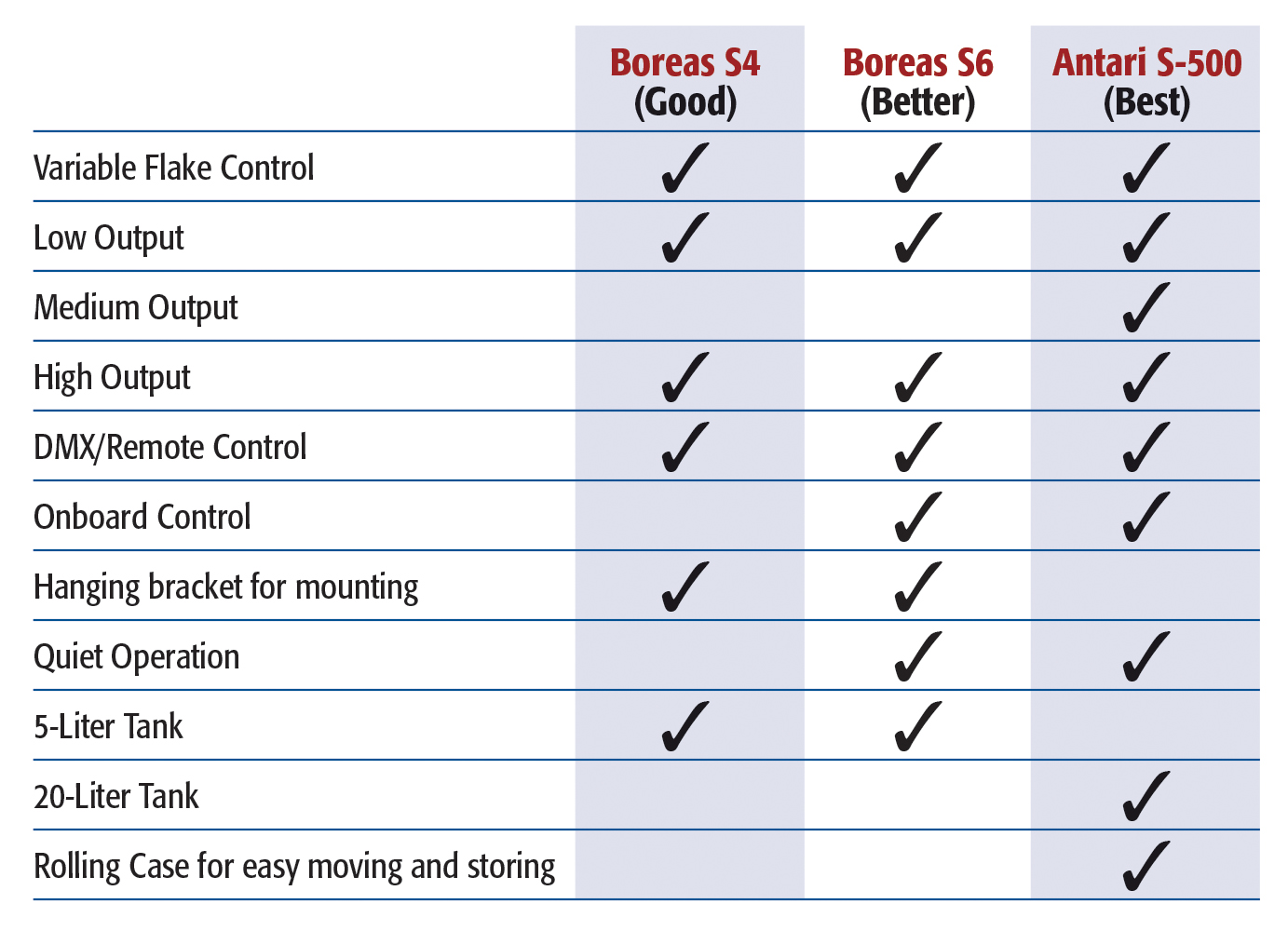 Consideration for all machines:
Freezing temperatures can freeze the fluid in the reservoir and the lines in the machine if left outside in them due to the snow fluid being made primarily with water.  The machines do not need to be left in wet conditions either as they are not fully IP rated. Winterize fluid for the machines can be bought separately for low temperatures.

Customers will want to wipe down the machines after use and can flush the lines with distilled water or use our winterizing fluid.

All of our machines have a 2 year warranty
Fluids:
We recommend two fluids, compatible with all machines
Long Lasting

Perfect for outdoors

75 feet of travel before evaporating

Perfect for blizzard like conditions

Float distance: high

Evaporation time: low

Extra Dry

No odor, non-toxic, non-staining

Perfect for indoors

Float distance: medium

Evaporation time, high
How much fluid do I need?
Depends on what you plan on using it for. To give you an idea, one gallon will last about an hour at high output. If you plan on running your machine for 2 hours a day at high output for 30 days, you'll need roughly 60 gallons for the season.
(User can purchase 55-gallon drum of snow fluid, call for pricing!)
Scents
Our water-based scents are added directly to the snow fluid to give the falling snow a scent of your choosing.