Outdoor Panel Christmas Trees
Bring your community together for the "Annual Holiday Tree Lighting Ceremony"
Realistic look for day - Prelighted for night
All panels have lights & are ready to be plugged in.
Easy To Install - Easy to Store

Add ornamentation for a Daytime or night time impact
Create Your Own Tree for a Lighting Ceremony
Every town has unique Christmas traditions. Why not claim one for your own? Convert your unused outdoor space into a holiday venue and host a festive tree lighting of a commercial panel Christmas tree. Your ceremony will quickly become a beloved town tradition — an event everyone looks forward to each year. You can spread good cheer and even find additional revenue opportunities by charging for admission or selling refreshments.
Our panel trees are simple to use. You also don't have to worry about installing or designing a place for the tree to go when you use our white-glove service, available in southern New York, eastern Pennsylvania, Maryland, New Jersey and Delaware. We can manage your entire setup and free you up to assist visitors. Our services include:
Consultation: We go to your site to evaluate it and discuss your goals. Then, we come up with a customized solution that meets your budget and needs.
Installation: Our team offers professional turnkey installation on your schedule.
Maintenance: Whether you need a bulb replacement or refurbishment, we take care of all maintenance to keep your display looking its best.
Breakdown: After the holiday season wraps up, our experts arrive to take down your panel Christmas tree and pack up everything to transport it to the warehouse.
Storage: We keep your panel tree and other decorations in our climate-controlled facility in Pennsylvania until the next holiday season arrives.
Grow Your Tree
You have the option to increase your tree height in 4' increments,
in following years, to make your tree taller.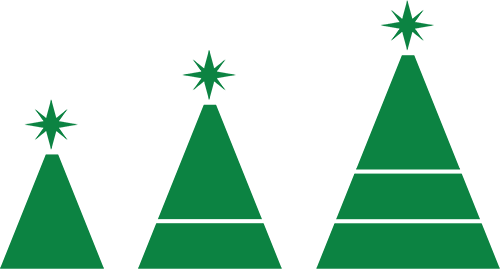 Panel Christmas Trees for Sale
Pulling off a great tree ceremony demands attention to detail and getting the right tree set up in time. Let the experts handle this demanding task for you. Our team has done this before and will deliver the best results for your Christmas tree display, advising you on what you need to achieve your vision. If you're unsure what you want the ceremony to look like, that's OK too. We can work with you to develop design ideas.
All the items we sell are meant for commercial purposes. We assist businesses and municipalities with their needs and stock all our products with you in mind.
What Sets Our Panel Christmas Trees Apart?
The outstanding customer service and top-notch products offered by Holiday Outdoor Decor put us a step above everyone else in the industry. We are the leaders in commercial outdoor decor and work every day to be worthy of that designation. Our decorations will wow your audience and make them eager to come back to see your tree again.
Contact Us Today to Request a Quote for Panel Trees
The Christmas season sneaks up on you before you know it. Prepare for this wonderful time of year by checking out our panel Christmas trees for sale and discussing your setup options with our expert team. Contact us by filling out our online form or calling us at 1-877-444-8888.