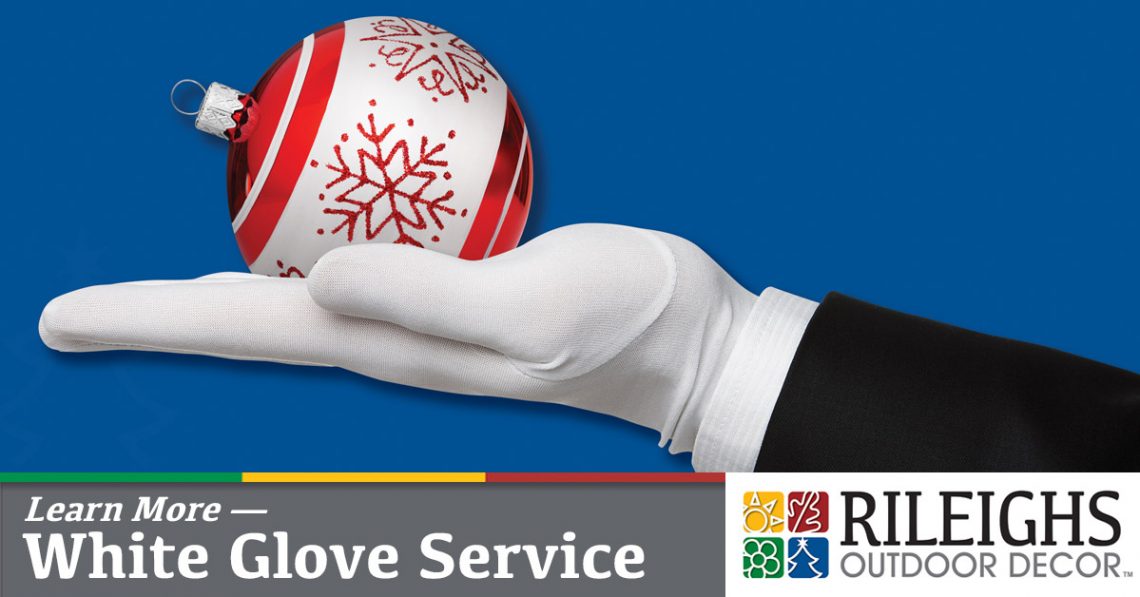 Celebrating holiday traditions should be a joyous time of the year … and not a vague remembrance! Imagine if you had more time to appreciate a nostalgic blend of warmth and happiness accompanied by starry lights, festive decorations, unique displays, and the gathering of neighbors, family and friends?
At Holiday Outdoor Decor, that's a sentiment we certainly share. In Business since 1921, Holiday Outdoor Decor is the specialist in the commercial outdoor decorations business. Whether it's celebrating Christmas, Veteran's Day or other seasonal holiday, our staff of commercial outdoor decorations specialists is here to help you enhance the beauty and success of any community celebration or event … making plenty of time for you to enjoy it.
While you can't be expected to remember every detail of planning for your community celebration, Holiday Outdoor Decor can! While you may not have the skilled technicians to install the Christmas lights and decorations yourself, Holiday Outdoor Decor does!
Introducing Holiday Outdoor Decors' White Glove Service – from consultation through installation and beyond! Holiday Outdoor Decors' White Glove Service is designed to deliver the highest-quality products, superior customer service and memorable customer experience through every phase of the outdoor decorating process, including:
On-site Design Consultation: Our initial consultation is FREE, including on-site review of your unique design preferences, preferred product needs, power availability, electrical demands, etc.
Installation: Our crew of full time, certified installers will make sure that your decorations are delivered and installed on time. Bracket and hardware installation is included.
Takedown: When your celebration or event is over, we disassemble your decor in a timely fashion. We provide the proper care and maintenance of your products, including refurbishing when needed, at no additional cost to you.
Maintenance: Decorations are taken down by our skilled technicians and carefully prepared for transport by our fleet to our own storage facility. We'll take the proper precautions to ensure your lights, Christmas trees or custom displays are safe and secure.
Storage: To ensure extended product life, we provide safe storage options for your valuable decorations, which are carefully housed in our own, secure, climate-controlled warehouse. You can trust they'll perform as well as they did when you first bought them.
[cool-process category="White Glove" type="with-image" select-view="no" show-posts="5″ icon-size="35px" link="no"]
"Our team has worked with Holiday Outdoor Decor for nearly 20 years. Our downtown holiday decorations look great and are always up on time. We could not have such a successful program without their expertise, care and creativity. I highly recommend them!"

Jennifer Wehring, Executive Director of Morristown Partnership, Morristown, NJ.
Let's face it, the process of choosing, installing and storing commercial decorations for your downtown, municipality, mall, lifestyle shopping center, school and college campus can be very challenging. Questions we get all the time: Which LED lights are best for our needs? What is Smart Lighting, and is this an option for us? Will we be able to install the decorations ourselves? Where can we safely store our displays until we need them again?
Start a new tradition this year!
Learn more about Holiday Outdoor Decors' White Glove Service by calling today to schedule a FREE initial on-site design consultation. Have questions? Our team is prepared to exceed your expectations!
Proudly enhancing the beauty and showcasing the pride of our downtowns, municipalities, malls, lifestyle shopping centers, schools and college campuses throughout Pennsylvania, New Jersey, as well as states between Maine and Virginia.
Holiday Outdoor Decor provides the complete package of installation services to most of Pennsylvania, New York, Maryland, and all of New Jersey, Delaware, and Florida.!