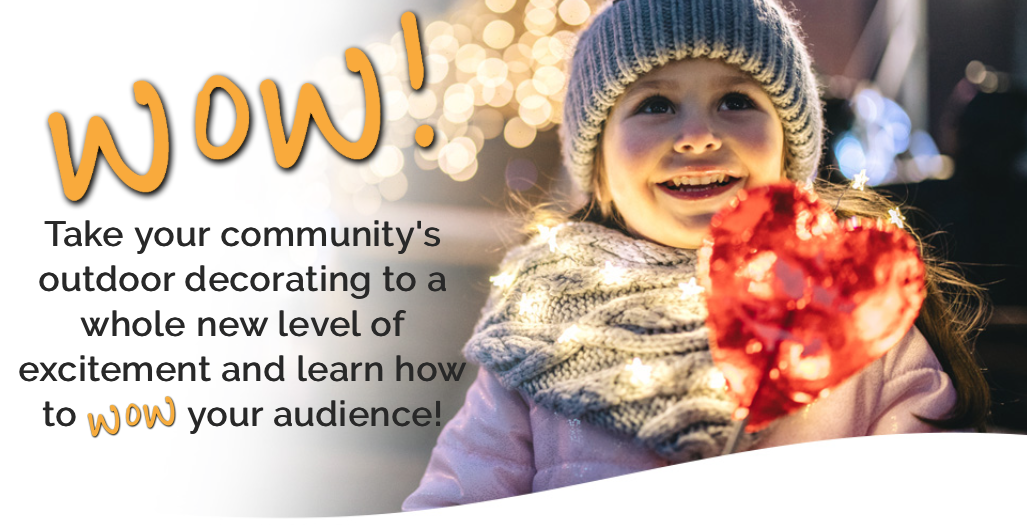 WOW Your Audience With Holiday Outdoor Decor
"Wow!" is what drives everything we do at Holiday Outdoor Decor – it's what our customers say when they see our amazing outdoor decorations, lighting, displays, banners and more!
In Business since 1921, Holiday Outdoor Decor is the specialist in the commercial outdoor decorations business. Whether it's celebrating Christmas, Veteran's Day, other seasonal holiday or event, our staff of commercial outdoor decorations specialists is here to help you enhance the beauty and success of any celebration.
"We have tons of people who come down here every Memorial Day through the 4th of July. There should be nothing to deter any small town thinking about doing this (Hometown Heroes Banners) Program … from Holiday Outdoor Decor." Nicole Dotta, Senior Director of Corporate Partnership – ArtsQuest, Bethlehem, Pa.
At Holiday Outdoor Decor, we believe there are numerouse ways to, "Wow your audience!"
Quality Service and Support
It starts with our friendly, honest, dependable sales and design professionals, who are sure to deliver more value for your money with their extensive product knowledge, quality service and support. Starting with our initial, free consultation, Holiday Outdoor Decor's mission is to deliver superior customer service and a memorable customer experience through every phase of the outdoor decorating process.
And, if you are located in our White Glove Service coverage area, you can rely on Holiday Outdoor Decor to warehouse your decorations during the off-season. We'll clean them, fix them and store them for the upcoming season. We'll even install your decorations next season with our team of certified, professional installers.
Quality Products and Equipment
Next, Holiday Outdoor Decor carries only the best quality products so our customers know they are investing in durable equipment that will serve their needs for years to come!
For Christmas decorations, our Traditional Series is constructed of steel with a powder coating for added durability. They can be used with more economical incandescent lighting or longer-lasting, energy efficient LED bulbs. While our Designer Series by MK Illuminating is made from light-weight and weather resistant aluminum for a more contemporary, European-style look. Powerful mini-lights provide greater luminosity. A recent addition is our custom-made, Fiberglass decorations, ideal for theme parks, indoor amusements, malls, commercial establishments, outdoor gardens, landscapes and more!
Then, there are our Smart Lighting Displays, such as Holiday Outdoor Decors Smart Tree, fully-programmable RGB lighting, sequenced to the music of your choice, and is easy to assemble. Or, our Twinkly PRO Light System with LED mini-lights that can be conveniently controlled via an App on your smart phone. Wow!
Of course, we provide custom-designed banners and mounting hardware as well. Ordering is easy. It starts with the selection of a banner type, vinyl or canvas. Then, choosing a size, regular or extra large. And, taking advantage of our complimentary Custom Design Service with plenty of samples for you to choose from. Be sure to inquire about our new Digitally Printed Canvas Banners for shorter print runs that require multiple designs in a single run, with unlimited color imprints and a longer warranty. We also offer the more cost effective Digitally Printed Vinyl Banners and the traditional, classic-looking Screen Printed Banners.
Patriotic and Hometown Heroes
Holiday Outdoor Decor makes honoring your communities Hometown Heroes, First Responders and their families as easy as 1-2-3! We guide you through the process of building awareness in your down town, give you the tools to set up your program, and the materials necessary to engage your community for years to come.
Learn how to start your own Hometown Heroes Banners Program at: www.hometownheroesbanners.com
Holiday Outdoor Decor – proudly enhancing the beauty, improving the safety and showcasing the pride of our: 
Downtowns
Municipalities
Malls
Lifestyle shopping centers
Amusement parks
Ball parks
Schools and college campuses
And, more!
Wow your audience with Holiday Outdoor Decor! Contact us to learn more.