Outdoor Christmas Decorations
Holiday Lighting Ground Displays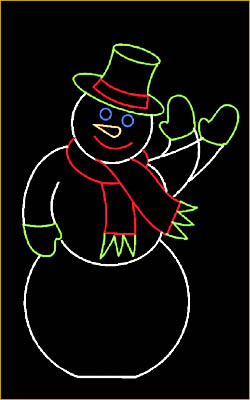 Dickens Carolers (4 piece package)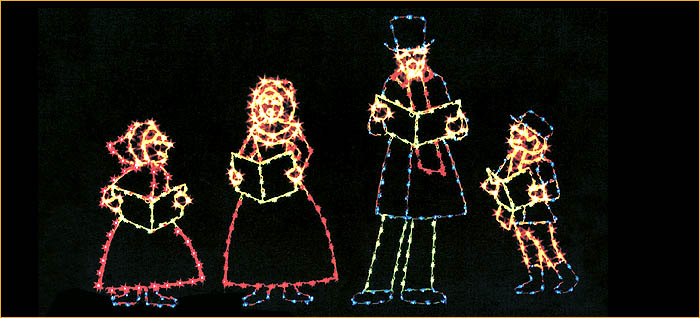 SSCT-38 - SSCT-37 - SSCT-36 - SSCT-39
Snowman Family (3 pieces package)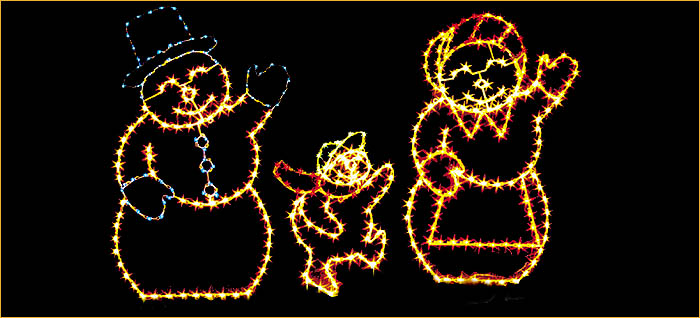 SSCT-107 - SSCT-3 - SSCT-108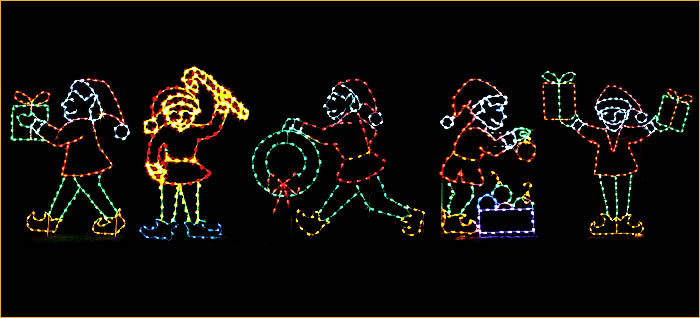 SSCT-13 - SSCT-47 - SSCT-7 - SSCT-8 - SSCT-14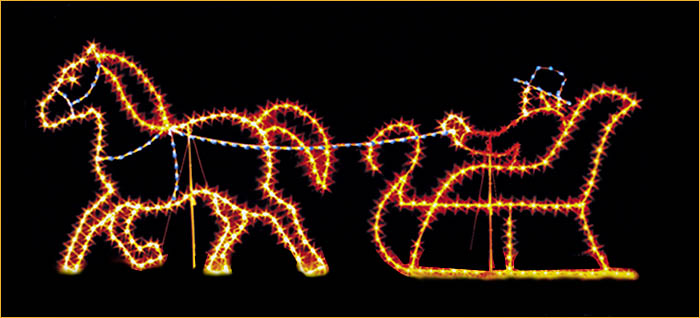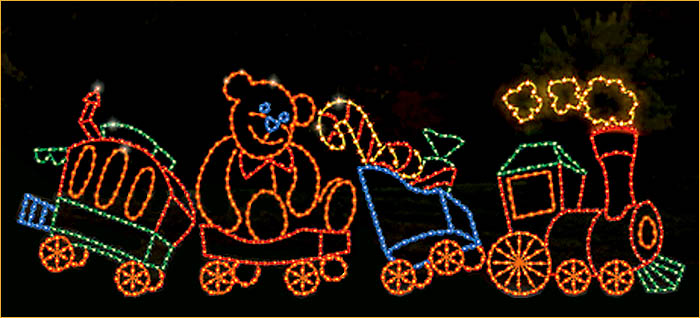 Baroque Deer (4 piece package)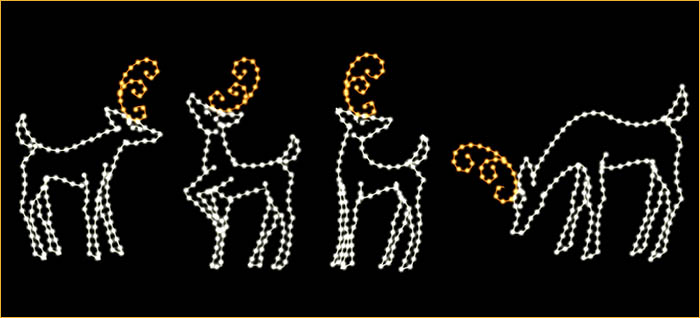 SD-634 - SD-633 - SD-635 - SD-632
Skaters (5 piece package)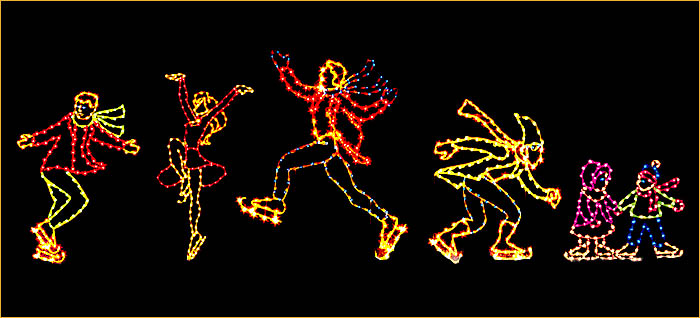 SSCT-92-(Glider) - SSCT-59-(Ballerina) - SSCT-34-(Jumping) - SSCT-33-(Speed Skater) - SSCT-93-(Jr. Couple)
Photo Op Train Engine
With Gold & Red Garland 6'6″T x 3'2″ W x 12'6″ L,,
4,200 5mm red & warm white mini lights and 624 ft. of red & warm white LED rope lights.  Can be fully customized to any size, garland color, light color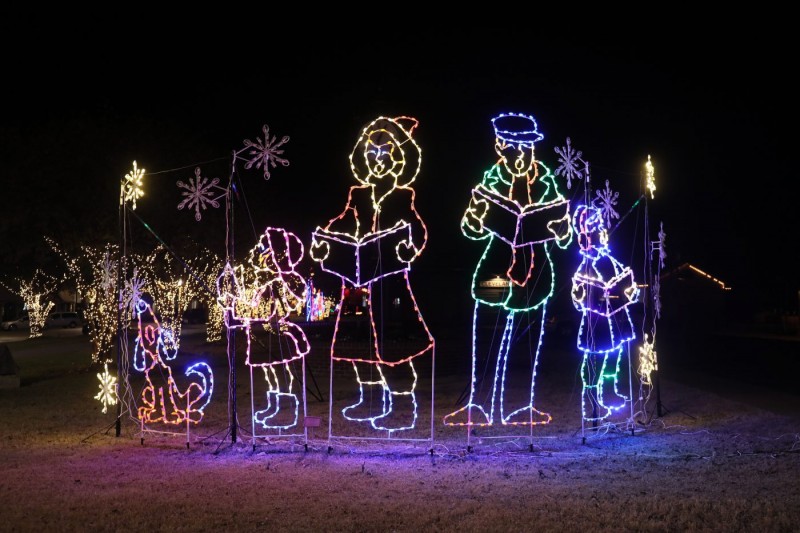 Modern Carolers
with Dog & Animated Snowflakes
30′ x 10′

6' Tall Standing Candle, 9" dia. with LED Mini Lights
These Beautiful Candles will surely draw attention  – Great for Entrances to Buildings & Events
Commercial Grade / Indoor & Outdoor Use
16′ Lighted Walk through Ornament
Design 1
16′ Lighted Walk through Ornament
Design 2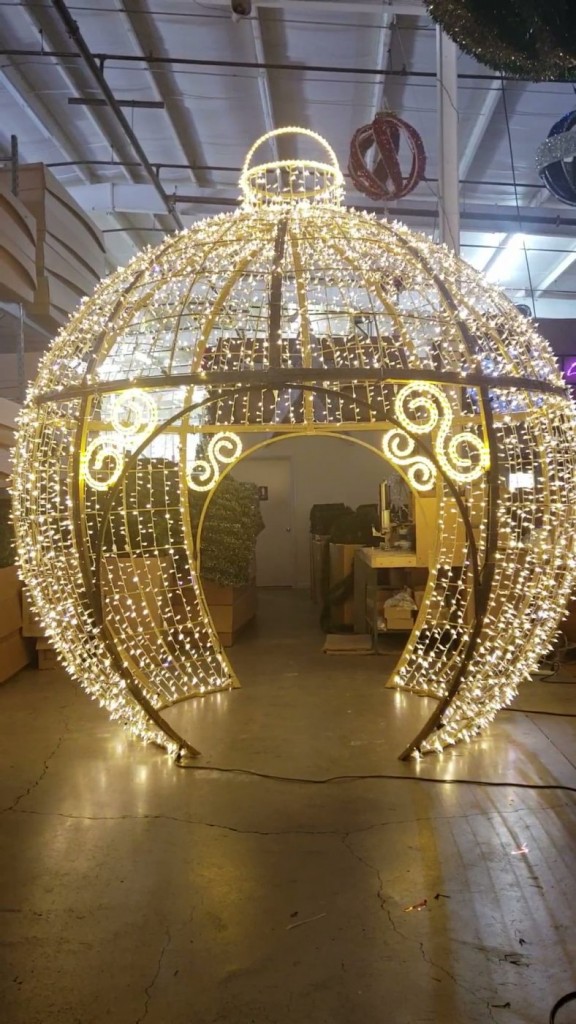 16′ Lighted Walk through Ornament
Design 3
21′ Lighted Walk Gift Box
with Red Garland Lighted Bow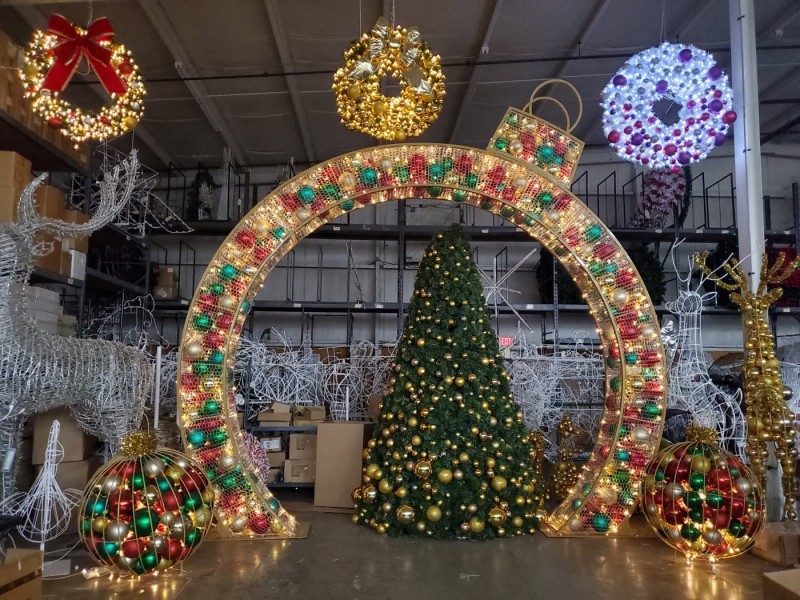 15′ x 15′ Lighted Ornament Filled Ornament Arch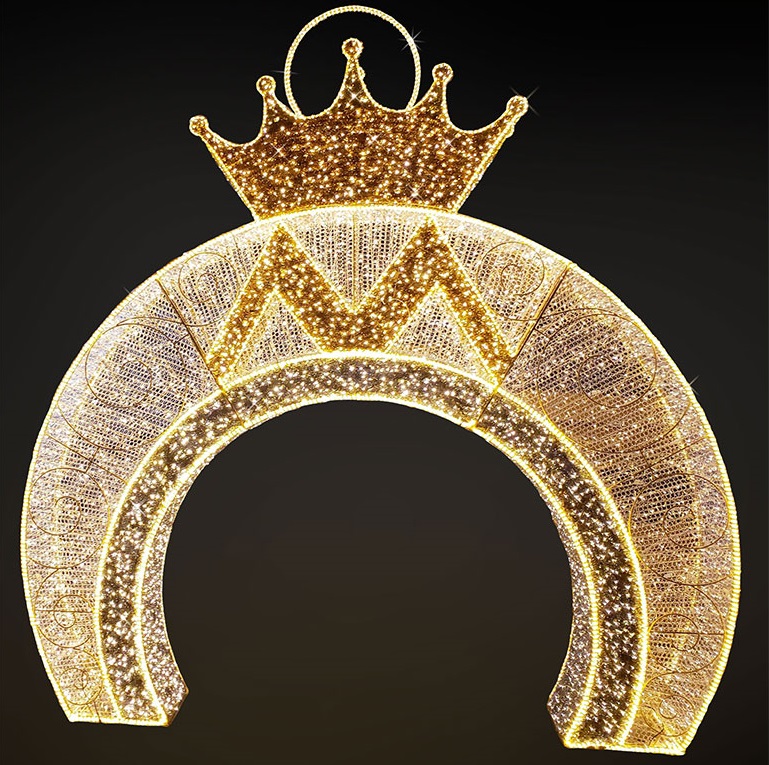 TDL-COA
17′ Gold Crown Ornament Arch

17 ft. "Spaghetti" Mesh and 2 Tone Silver and Gold Garland
Warm and Cool White Mini Lights
Gold Scroll Accents
Can be customized to any Dimension, Color and Overall Design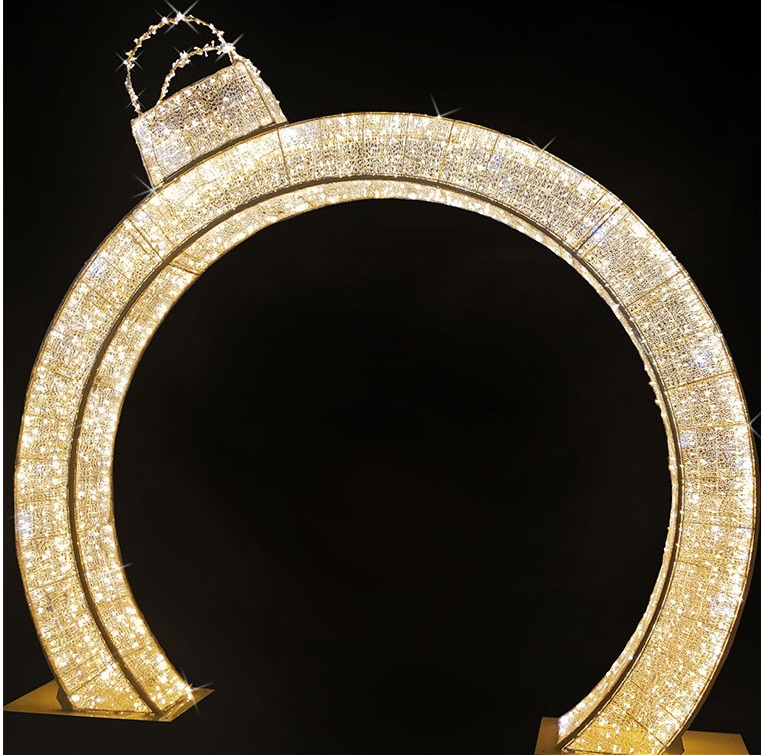 TDL-16WTOG
16′ Gold Lighted Walk thru Ornament Arch

Clear "Spaghetti" Mesh with Warm and Cool White Twinkling Mini Lights
Can Customize to Any Size or Color
Also available in 12′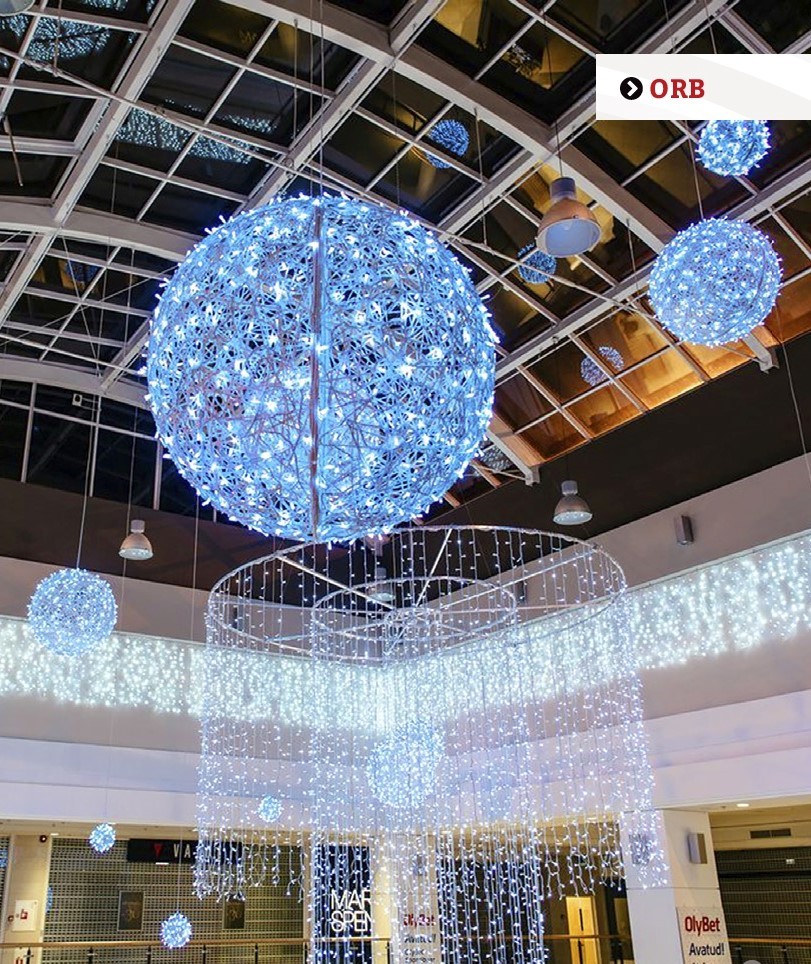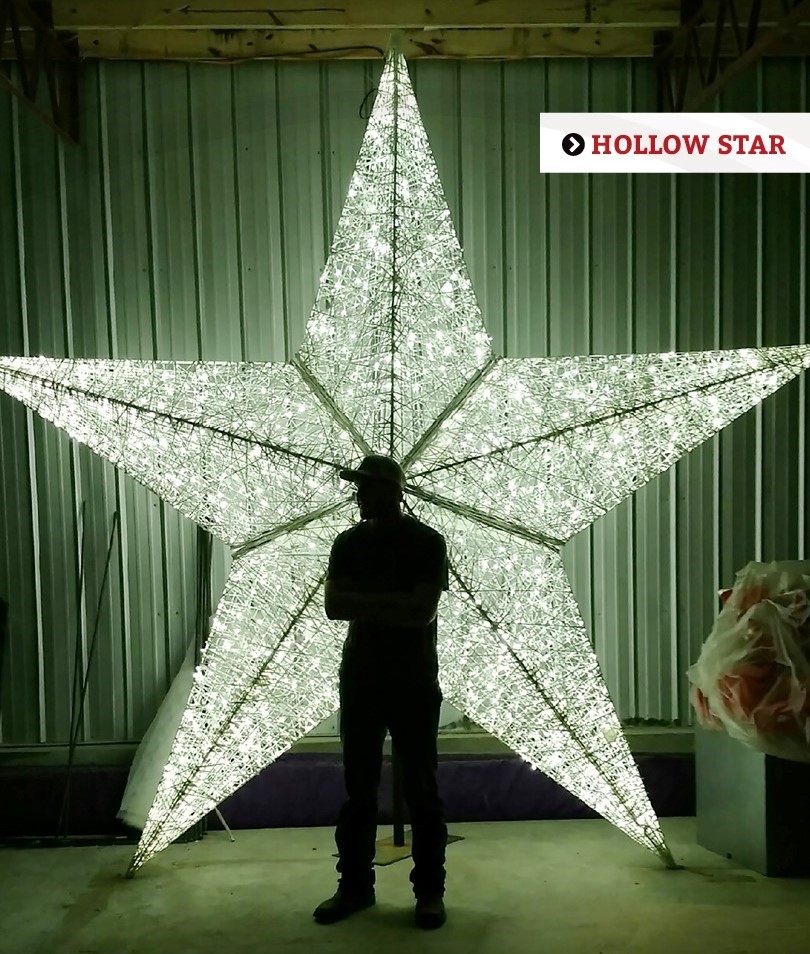 Mason Fiberglass Hollow Star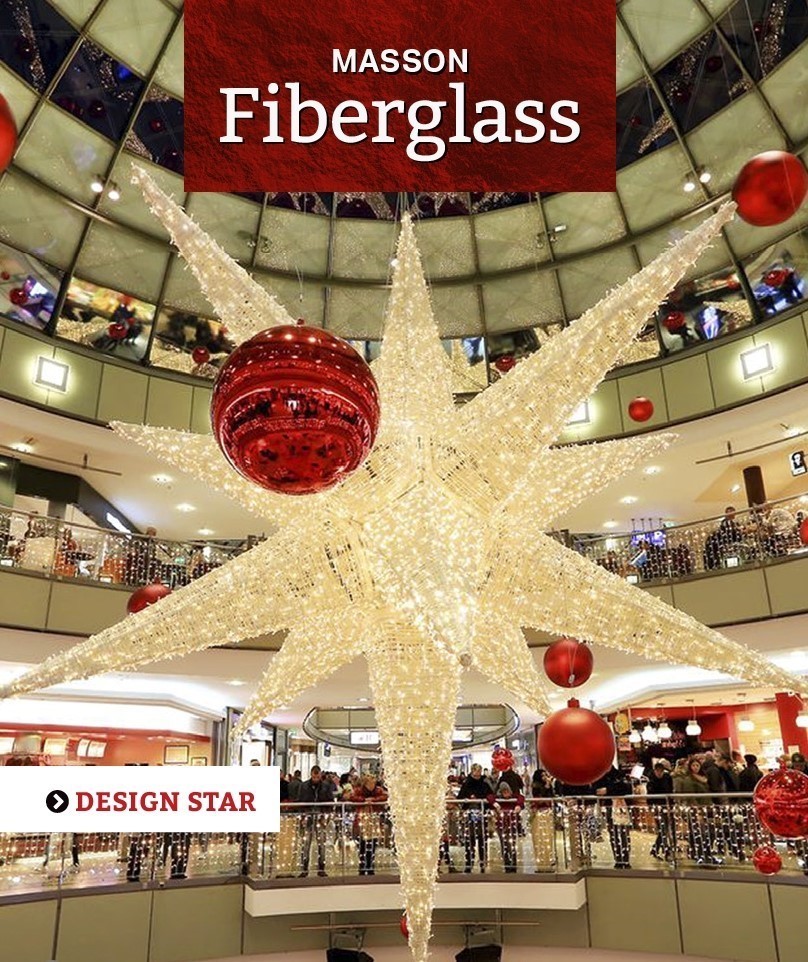 Mason Fiberglass Design Star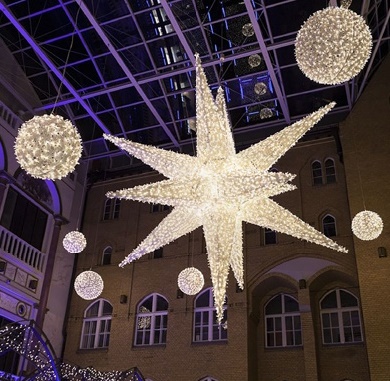 Mason Fiberglass Design Star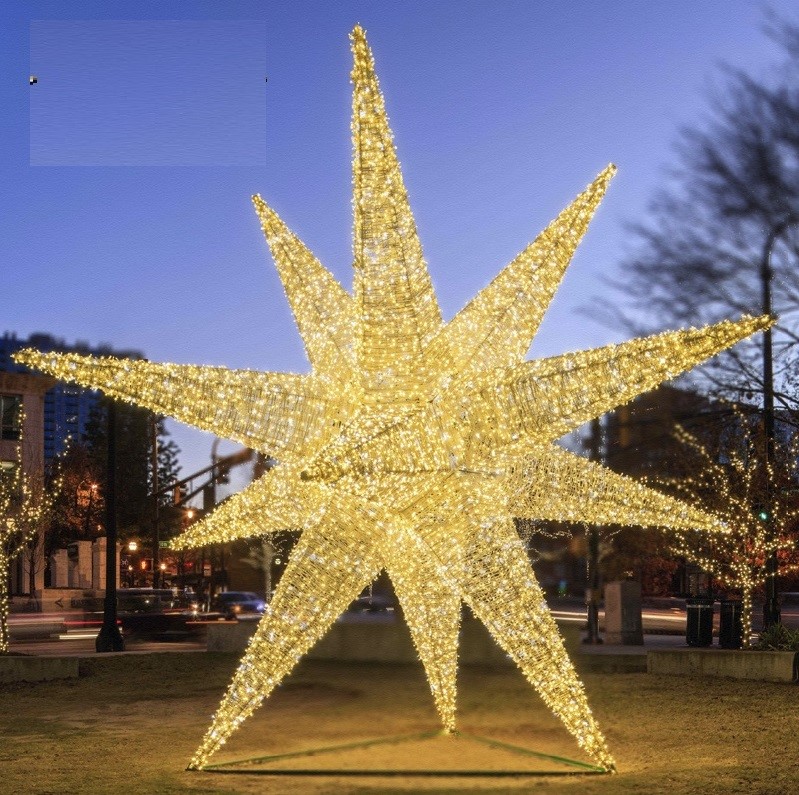 Mason Fiberglass Design Star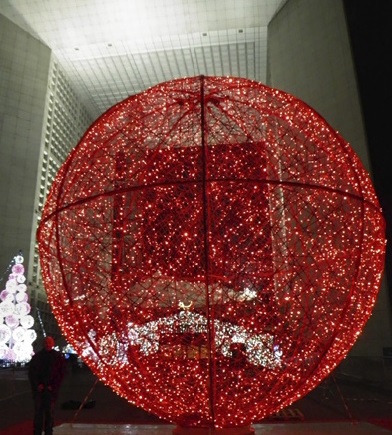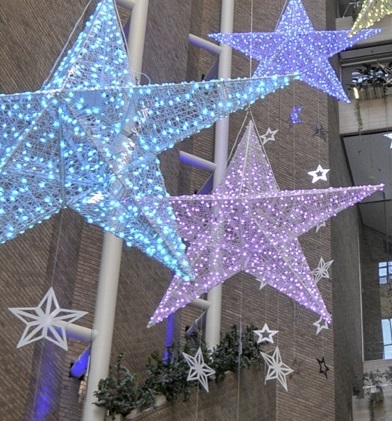 Mason Fiberglass Blue and White Hollow Stars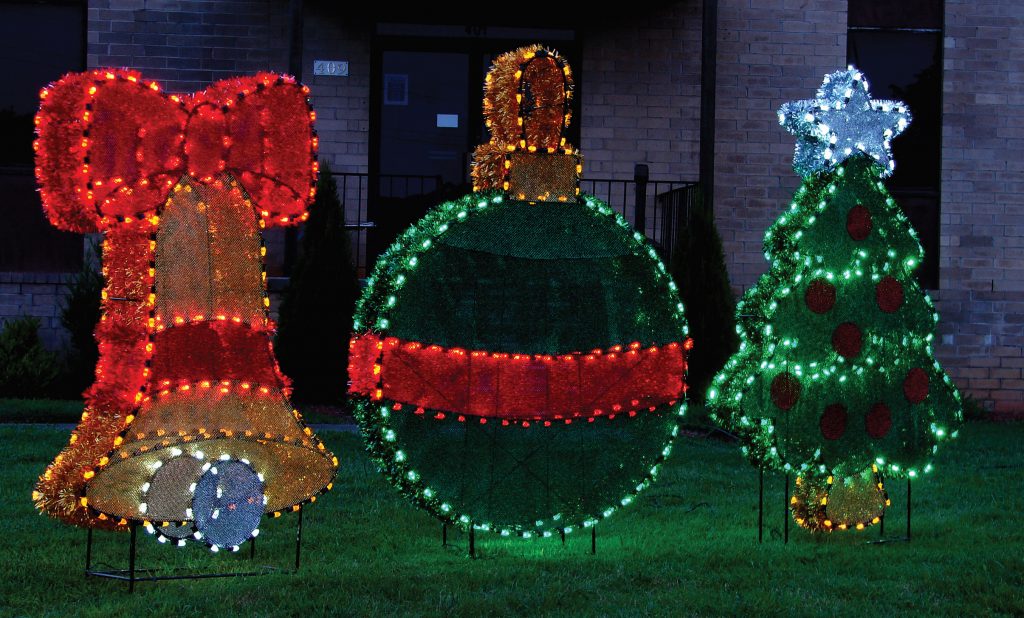 3D Holiday Displays
SS3D-100 3-D BELL 6.5′ x 4.5′ x 9″
SS3D-101 3-D ORNAMENT 8′ x 5′ x 9″
SS3D-102 3-D TREE 8′ x 5′ x 9″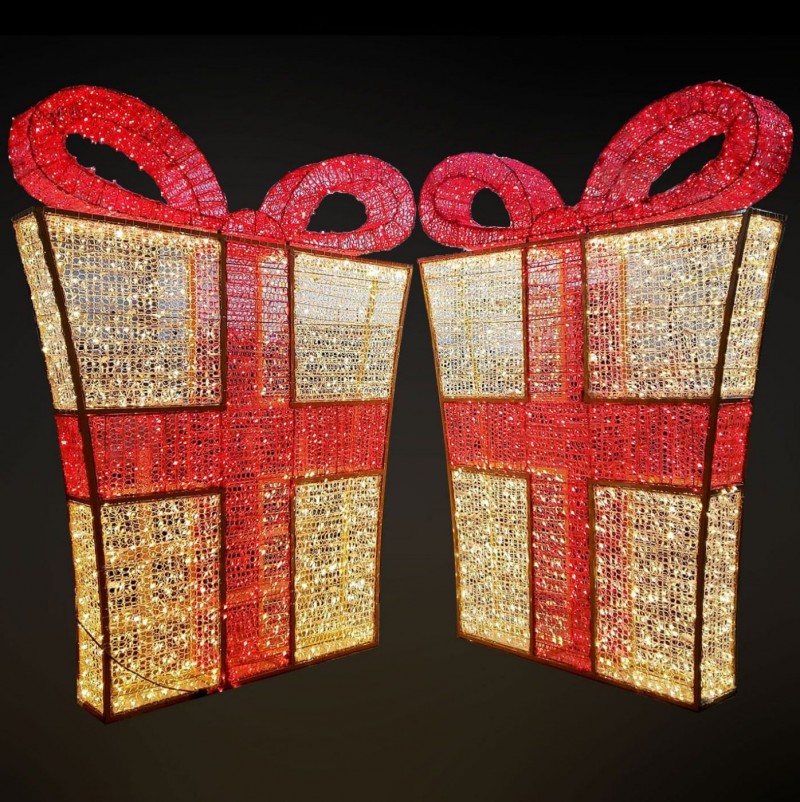 TDL-96
10′ Lighted  Gift Package with Red Bow
(available in all Color combinations)
TDL-91
12′ Red Spindle Tree
Tree shown with Deep Red Garland, Warm White Rope Light
Available in Any Combination of Garland and Rope Light Colors
Available in 6′, 12′ and 18′
Available with Ornamentation
TDL-97
10′ Modern Star Snowflake
Can be built as a Ground Display, Building Front, or Rooftop Display
TDL-93
6′ Silver Spindle Tree

White/Iridescent Garland with Bright White Garland
Available in Any Garland and Rope Light Combination
Available with Ornamentation
Available with Mini Lights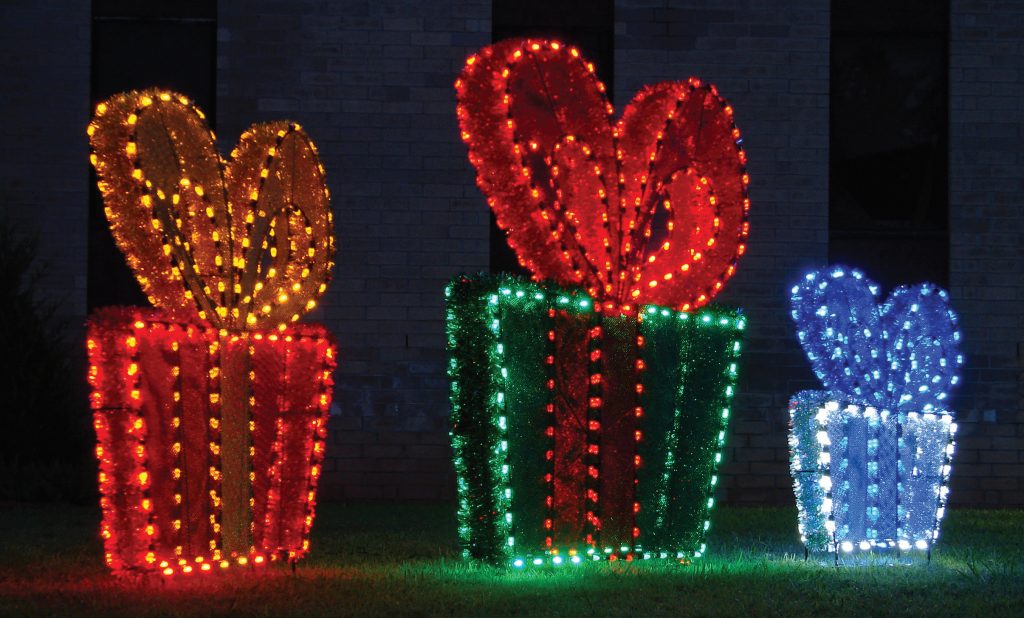 3D Holiday Packages Displays
SS3D-103 Medium Package 6.5′ x 4′ x 9″
SS3D-104 Large Package 8′ x  5′ x 9″
SS3D-105 Small Package 4.5′ x 2.5′ x 9″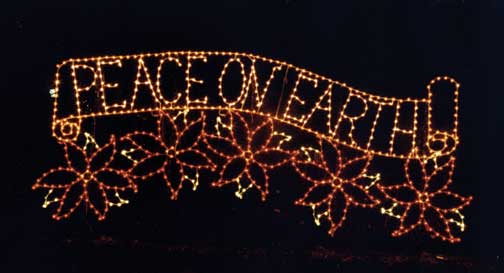 SSLF-1
20' x 8' Peace On Earth Scroll
(3490 watts-234 lbs.)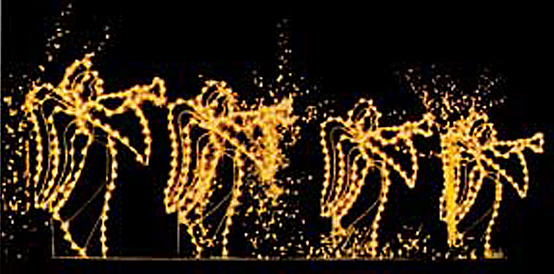 SA-600
8′ Self-Standing Heavenly Angel
(525 watts-26 lbs.)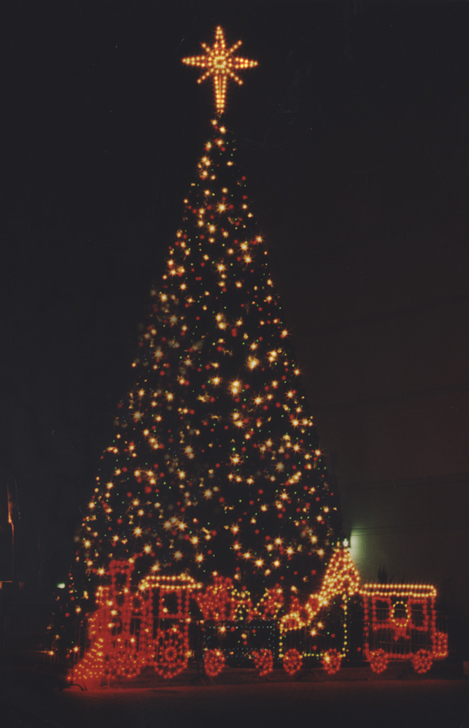 SSTL-31
Santa's Express (A), 35′ x 9′, 1,034 C-7 LED Lamps, 230lbs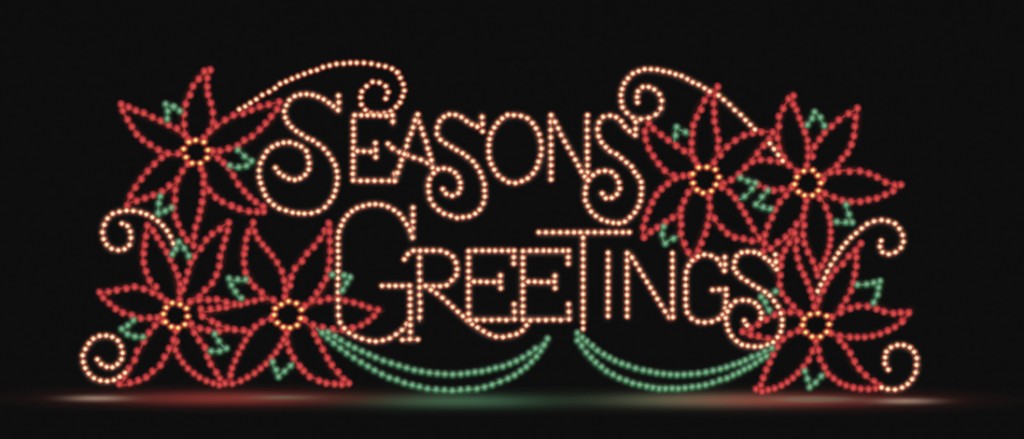 SSLF-88
Season's Greetings Marquee, 25′ x 9.5′, 1,175 C-7 LED Lamps, 580 lbs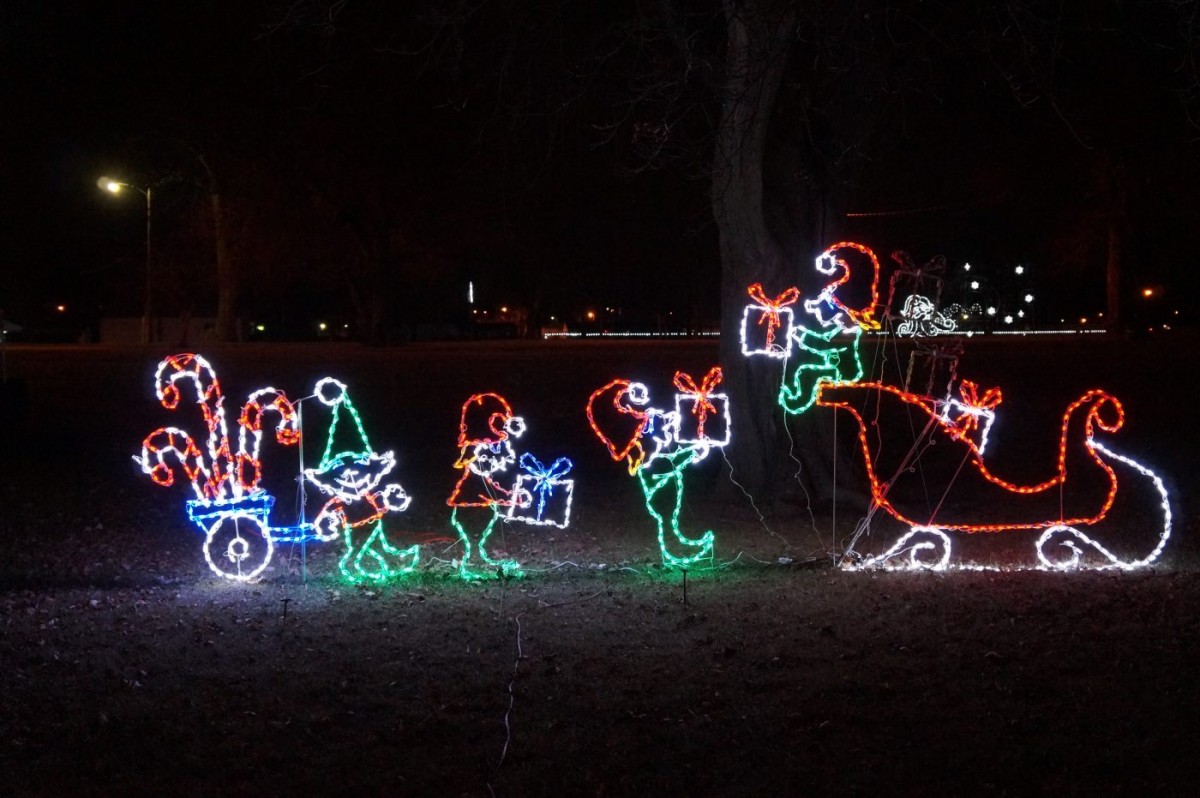 Custom Animated Elves Loading Santa's Sleigh Lighted Display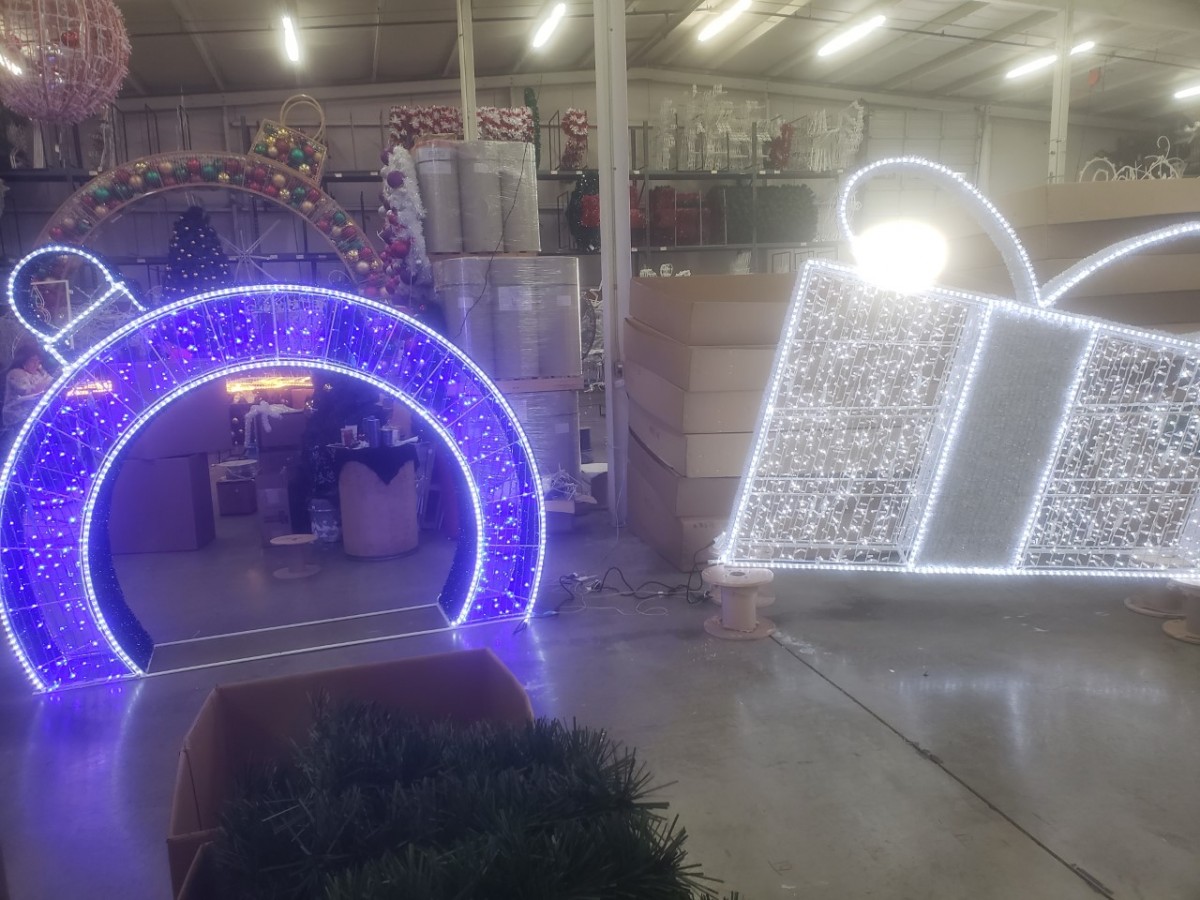 Walk Thru Ornament and Giant Gift Box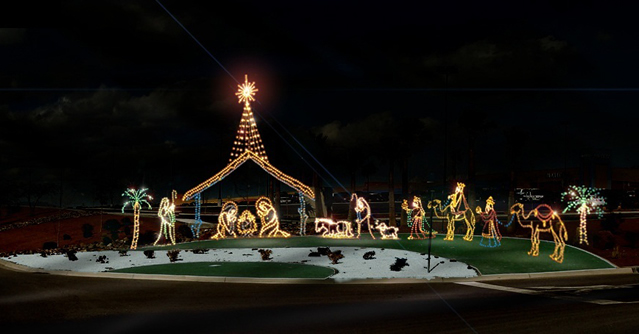 SSRC-6
4-1/2′ x 6-1/2′ Joseph Kneeling (650 watts-24 lbs.)

SSRC-7
4′ x 6′ Mary (730 watts-20 lbs.)

SSRC-8
3-1/2′ x 4-1/2′ Christ Child (475 watts-14 lbs.)

Many other free standing ground decoration pieces in this Christmas display are shown, but not listed individually in the details.
SSCT-38
2-1/2′ x 4-1/2′ Girl Caroler (445 watts-22 lbs.)

SSCT-37
3′ x 5-1/2′ Woman Caroler (530 watts-27 lbs.)
SSCT-36
3′ x 6-1/2′ Man Caroler (665 watts-27 lbs.)
SSCT-39
2′ x 4-1/2′ Boy Caroler (490 watts-22 lbs.)
(Each piece of this display is a free-standing outdoor Christmas decoration)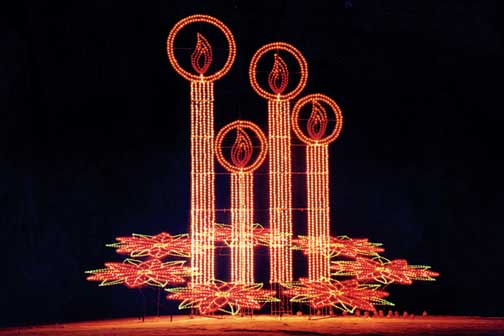 SSLF-21
48′ x 41′ Candlestick Extravaganza
(84,200 watts-4,255 lbs.)
SSWW-68
15′ x 15′ Animated Children Building a Snowman
(3,020 watts-307 lbs.)
SSWW-61
46′ x 28′ Animated Old Man Winter
(4,670 watts-1475 lbs.)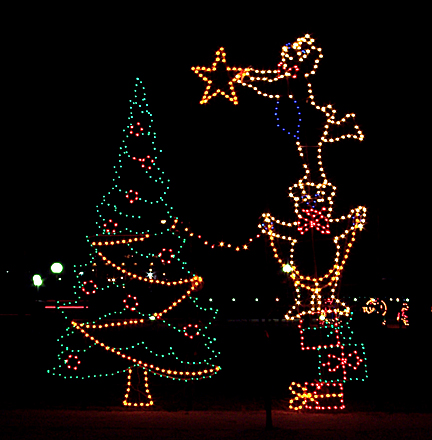 SSTL-121
23'x21' Bears Decorating Tree (A)
(5085 watts)

SSCT-92 Gliding In Reverse (705 watts-34 lbs.)
SSCT-90 Lady Jumper (630 watts-30 lbs.)
SSCT-59 Ballerina on Ice (705 watts-33 lbs.)
SSCT-34 Jumping Skater (775 watts-32 lbs.)
SSCT-89 Sit Spin (475 watts-30 lbs.)
SSCT-33 Speed Skater (535 watts-32 lbs.)
SSCT-93 Jr. Skating Couple(785 watts-40 lbs.)
SSCT-91 Skating Lady (370 watts-33 lbs.)

SSCT-31 Big Sister Pulling Sled (775 watts-45 lbs.)
SSCT-29 Skating Couple (815 watts-53 lbs.)
SSCT-46 Skating Man w/Scarf (520 watts-32 lbs.)
SSCT-32 Ice Dancers (1215 watts-61 lbs.)
SSCT-30 Boy Falling On Ice (530 watts-26 lbs.)
SSTL-215
11-1⁄2'x17' Animated Jack-In-The-Box
(5085 watts)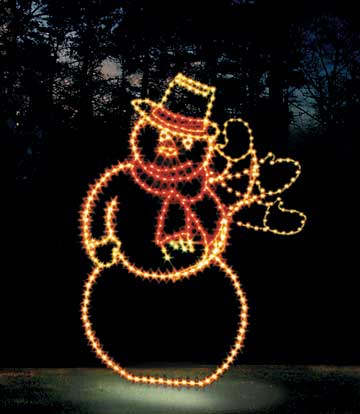 SSWW-1 
10′ x 14′ AnimatedWaving Snowman
(1660 watts-160 lbs.)

SD-621 Standing Doe (410 watts-33 lbs.)
SD-625 Grazing Buck (450 watts-35 lbs.)
ST-640 10' 3-D Silhouette Pine (1000 watts-86 lbs.)
SD-620 Fawn (250 watts-16 lbs.)
ST-641 12' 3-D Silhouette Pine (1950 watts-112 lbs.)
SD-623 Laying Doe (250 watts-30 lbs.)
SD-624 Standing Buck (450 watts-32 lbs.)
SD-622 Grazing Doe (400 watts-30 lbs.)
SSCT-97
2-1⁄2' x 5' Peek A Boo Elf
(450 watts-22 lbs.)
SSCT-47 
4' x 6-1/2' Elf w/Candy Cane
(705 watts-28 lbs.)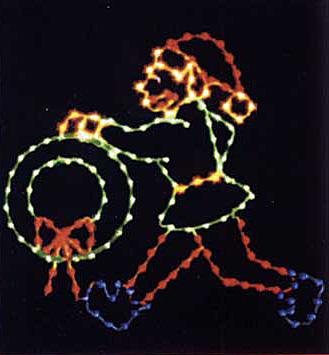 SSCT-7 
6-1⁄2' x 6' Elf w/Wreath
(905 watts-31 lbs.)
SSCT-95 
14' x 7-1⁄2' Elves Building Toys
(3375 watts-680 lbs.)

SSTL-209 
52′ x 11′ Animated Deluxe Train
(11775 watts-680 lbs.)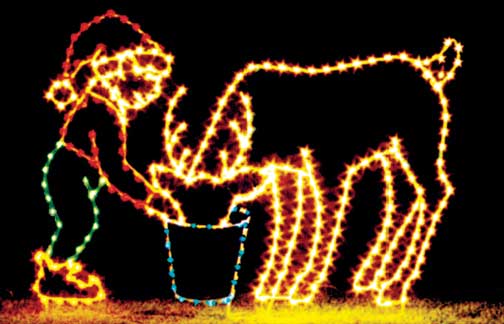 SSCT-4 
10′ x 7′ Animated Elf Feeding Deer
(1,525 watts-55 lbs.)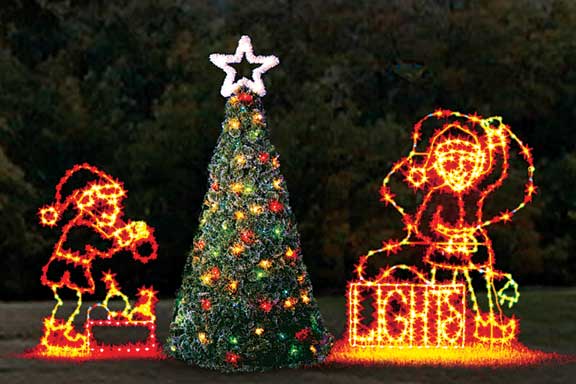 SSCT-8 4′ x 6-1/2′ Elf Trimming Tree (865 watts-35 lbs.)
SS-411 11′ Self-Standing Tree (700 watts-101 lbs.)
SSCT-12 6′ x 8-1/2′ Elf Lighting Tree (1,480 watts-62 lbs.)
SSCT-98
10′ x 10′ Animated Elf Washing Deer
(1,710 watts-60 lbs.)
SSCT-21 
4′ x 6′ Top
(455 watts-30 lbs.)
SSCT-15 4′ x 5′ Jolly Santa (800 watts-25 lbs.)
SSCT-60 3′ x 5′ Jolly Mrs. Claus (645 watts-23 lbs.)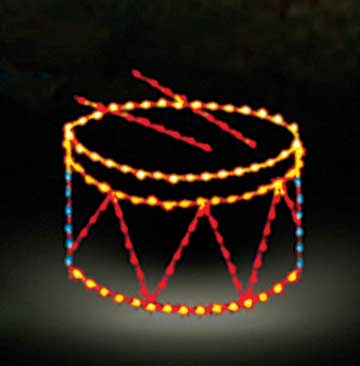 SSCT-24 
4-1/2′ x 4-1/2′ Toy Drum
(650 watts-30 lbs.)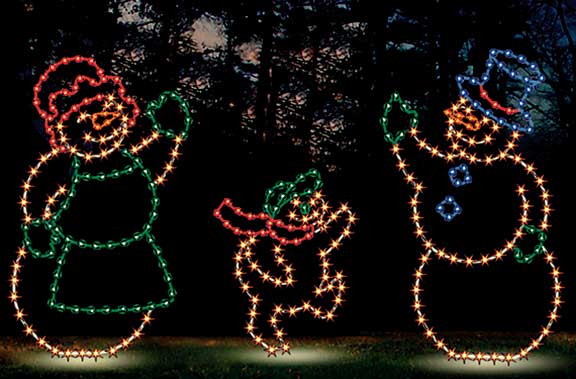 SSCT-108 4′ x 7′ Sno-Man (740 watts-25 lbs.)
SSCT-107 4′ x 7′ Sno-Woman (875 watts-25 lbs.)
SSCT-3 4′ x 3′ Sno-Kid (375 watts-20 lbs.)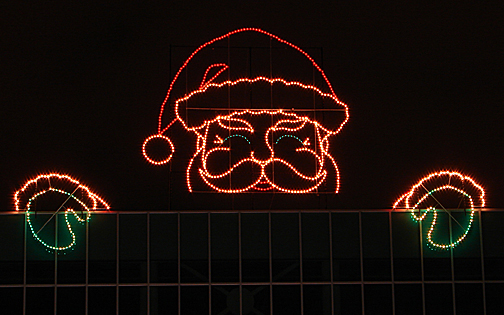 SSTL-108 
43′ x 20′ Peeking Santa
(4,500 watts-365 lbs.)
SSTL-173 15′ x 28′ Dasher (2,850 watts-320 lbs.)
SSTL-174 15′ x 26′ Dancer (3,565 watts-325 lbs.)
SSTL-175 16′ x 25′ Comet (3,525 watts-263 lbs.)

SSTL-211 
25-1/2′ x 10′ Animated Deluxe Santa Sleigh
(2,600 watts-307 lbs.)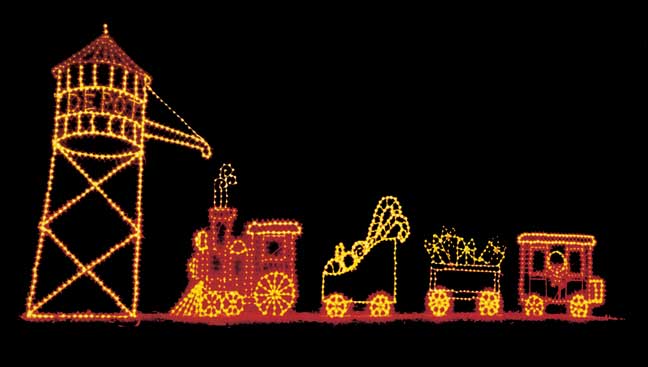 SSTL-31 35′ x 9′ Animated Santa's Express (5,400 watts-230 lbs.)
SSTL-33 9′ x 16-1/2′ Depot Water Tower (2,225 watts-160 lbs.)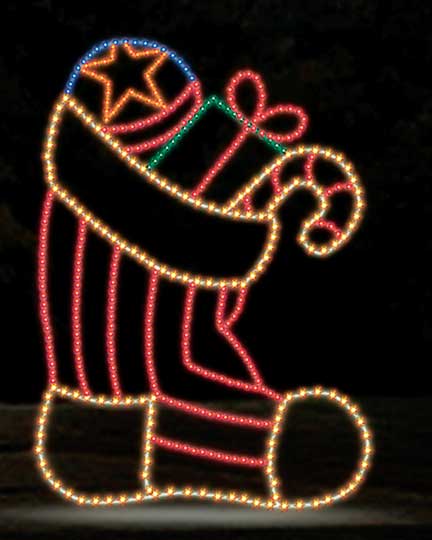 SSTL-216 
11′ x 15-1/2′ Colossal Stocking
(2,900 watts-355 lbs.)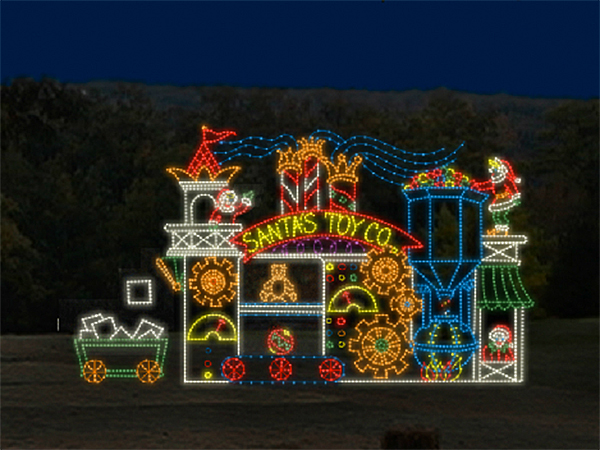 SSTL-168
38′ x 21′ Animated Santa's Toy Company
(18,550 watts-1,600 lbs.)
SSTL-210 
9′ x 16′ Animated Jolly St. Nick
(2,525 watts-279 lbs.)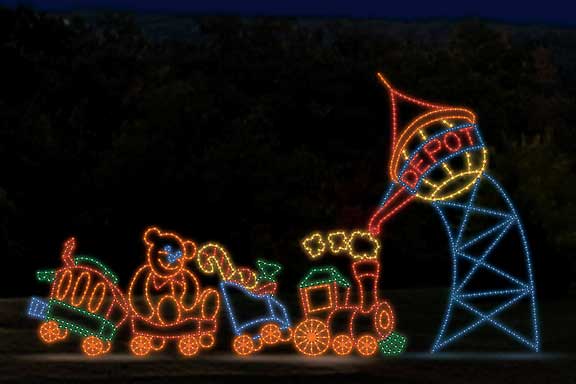 SSTL-214 10′ x 17-1/2′ Whimsical Depot (1,335 watts-277 lbs.)
SSTL-207 28′ x 9′ Animated Toy Train (5,325 watts-287 lbs.)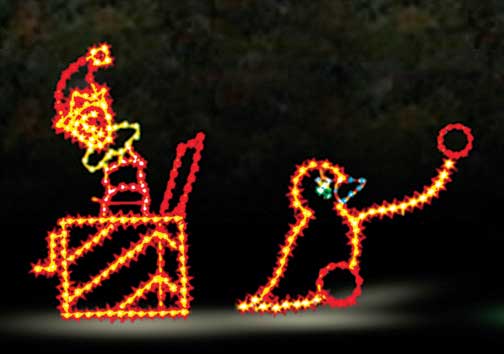 SSCT-18 4-1/2′ x 8′ Jack-In-The-Box (875 watts-44 lbs.)
SSCT-23 6′ x 4′ Toy Duck (365 watts-25 lbs.)

SSCT-22 5′ x 5′ Ball (455 watts-26 lbs.) 
SSCT-20 6-1/2′ x 4′ Rocking Horse (565 watts-28 lbs.)
SSCT-19 7-1/2′ x 7′ Blocks (915 watts-40 lbs.)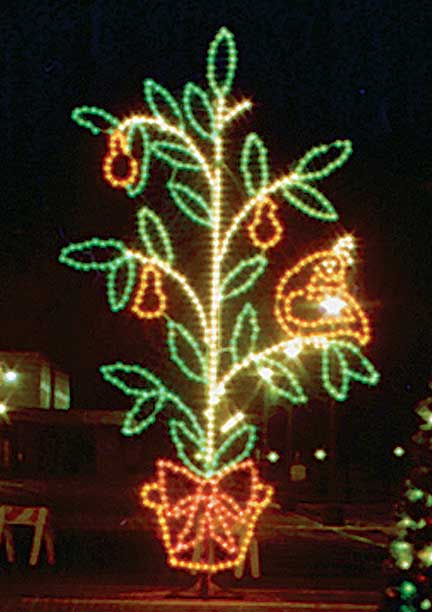 SSTD-1 
13'x21' Partridge in a Pear Tree
(3,065 watts)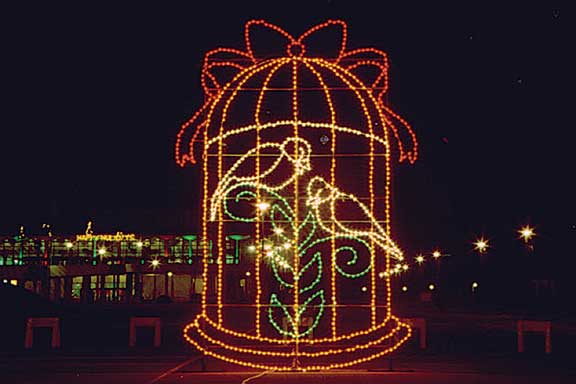 SSTD-2 
16'x23' Two Turtle Doves
(7,450 watts)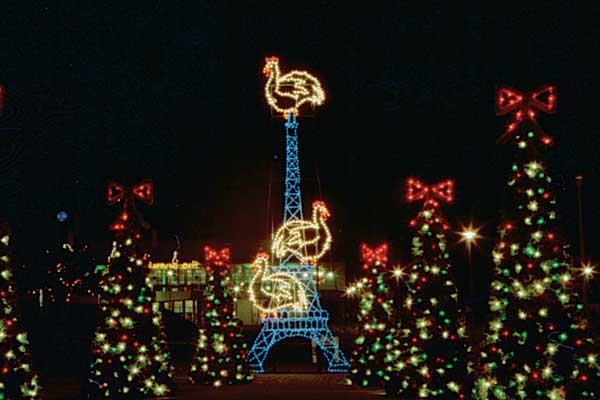 SSTD-3 
10'x29' Three French Hens
(5,855 watts)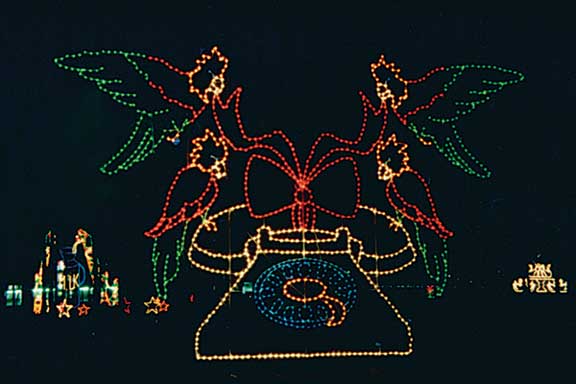 SSTD-4 
34'x19' Four Calling Birds
(13,496 watts)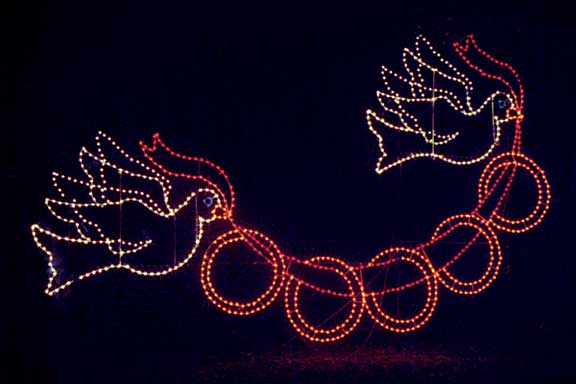 SSTD-5 
40'x19' Five Golden Rings (A)
(5,170 watts)

SSTD-6 
72'x16' SIx Geese A Laying (A)
(12,800 watts)
SSTD-7 
28'x20' Seven Swans A Swimming (A)
(6,250 watts)
SSTD-8
40'x32' Eight Maids A Milking (A)
(12,930 watts)
SSTD-9 
28'x34' Nine Ladies Dancing (A)
(16,500 watts)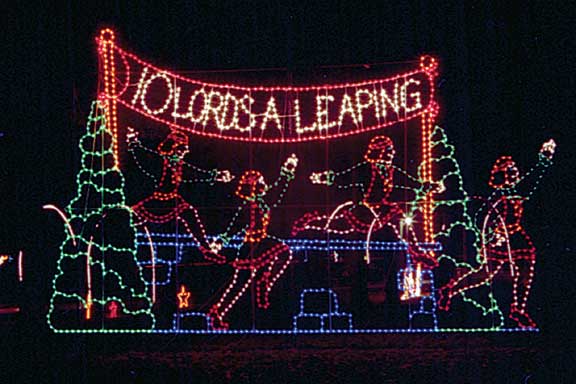 SSTD-10 
40'x20' Ten Lords A Leaping (A)
(9,200 watts)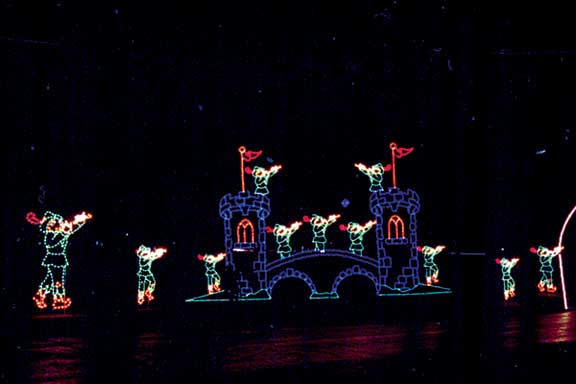 SSTD-11 
58'x33' Eleven Pipers Piping
(22,545 watts)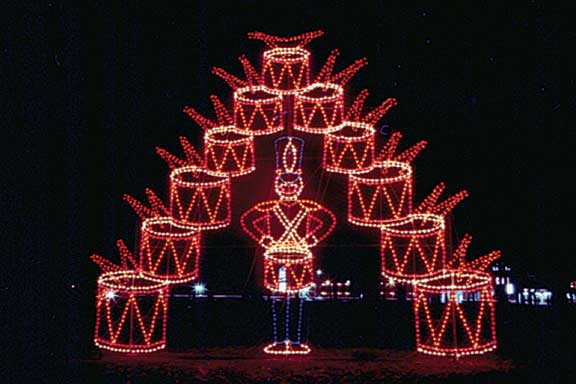 SSTD-12 
32'x28' Twelve Drummers Drumming (A)
(14,115 watts)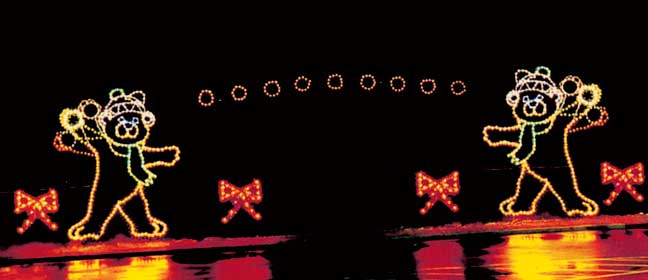 SSTL-102 
30′ x 16′ Animated Teddy Snowball Fight
(5,305 watts-735 lbs.)
SSWW-8
13′ x 10′ Igloo (2,665 watts-180 lbs.)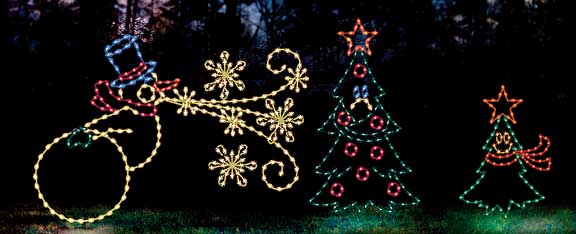 SSWW-65 17-1/2′ x 8-1/2′ Animated Snowman Blowing w/Shivering Tree (4,385 watts-175 lbs.)
SSWW-67 4′ x 6′ Animated Baby Tree (655 watts-39 lbs.)