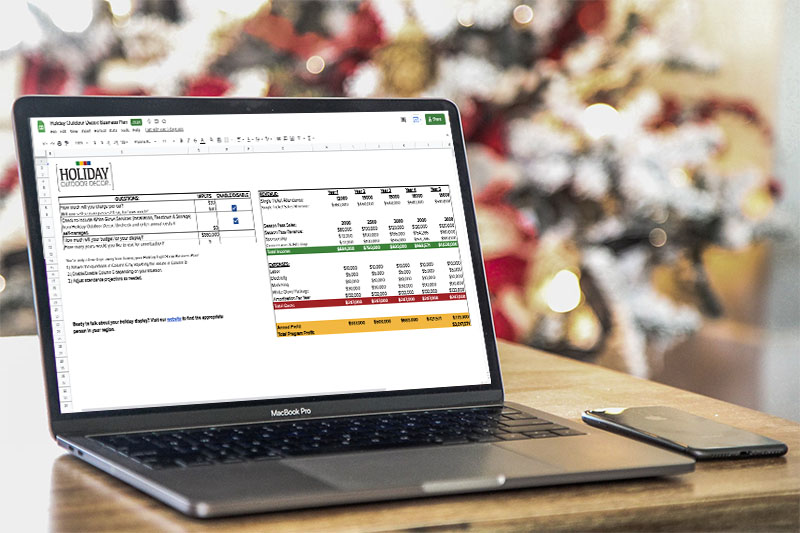 The Ultimate Guide to Building a Holiday Light Show Business Plan
Holiday Light Shows are big business. But if you want yours to be a successful enterprise, you'll need a holiday light show business plan. Keep reading to learn how to build one.
Commercial light shows not only offer Covid-conscious holiday options, they also provide substantial upside potential for the organizations hosting them. Each event is unique, but here are several key benefits commercial light shows offer:
Attracting new customers. For attractions that are already open for the season, a commercial lightshow gives customers a new reason to visit for the first time, or to return during the off season.
Increasing social media presence. Holiday light shows provide perfect photo opportunities for guests. As such, light shows greatly increase social media presence of the hosting facility.
Building a sense of community. Holiday light shows, by design, encourage patron exploration. Attendees may interact and linger, feeling a part of a community event.
Driving off-season revenue. Many attractions find cold-weather months a difficult time to drive attendance. Add some holiday cheer and lights (along with some hot cocoa), and suddenly the "chill" becomes a feature, rather than an obstacle.
Still, for all of the benefits listed above, customers frequently wonder about the business model for their holiday light show. After all, every venue is different, as are the goals of each organization. There is nothing cookie-cutter about your display.
Thankfully, at Holiday Outdoor Decor, we've been part of successful holiday light shows for a century. We've learned what drives revenue and sponsorship.
This post has been written to share secrets for success, and to provide a customizable template for building a business plan for your event. (Fill out the form for immediate access to the template!) All holiday light shows are magical. Here's how to make sure yours is successful as well.
Ready to build your holiday light show business plan? Download our free holiday light show business plan template NOW! 
Will this even work here?
Holiday Light Shows are truly spectacular. Moreover, they're highly customizable. It's entirely possible to start with a small display that you grow over time.
That said, it's important to realize that ultimately your traffic will be the greatest predictor of your earned event revenue.
Light shows can be as small or as large as your hopes (and budget) allow. After a century of crafting these events, we've learned to apply the "500K Rule" to determine your likelihood of success.
What's the 500k rule?
When franchises and other businesses are considering opening in an area, one of the first considerations is whether there is enough traffic to support the business plan. In the case of companies like Starbucks, businesses rely on lots of data and even artificial intelligence to predict foot traffic. While custom events like light shows don't require the same intensive data, a similar approach can work for you.
Over the years, our customer base's data has shown that the events with the highest levels of attendance and sponsorship come from organizations that have a minimum of 500,000 residents located within a one hour radius. If your audience is smaller than that, you will need to over-invest in marketing to attract attendees.
You can enlist the help of readily available online tools to determine if your community fits the bill. We'd encourage you to run your location through one like this to determine if you meet our 500k rule of thumb.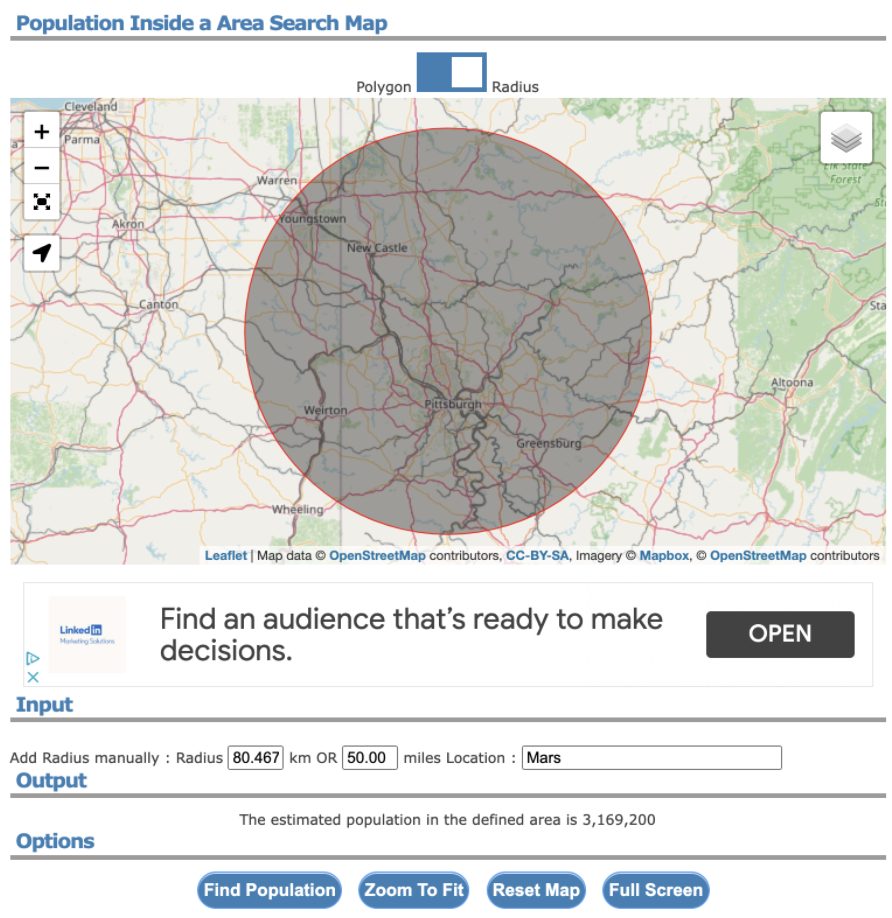 According to the data, there are nearly six times as many people within an hour's radius of Mars, PA to pass our 500k rule. If your business is here, you should consider a commercial holiday light show.
Holiday Light Show Business Plan: Revenue
Our business plan includes four common sources of revenue from your holiday lightshow. Keep reading to learn more about each, and how they have been factored into our planning template.
(Or, if you're ready to start building your plan, fill out the form for immediate access to the template.)
Revenue Factor 1: Charging for Attendance
Charging for attendance is the primary method of generating revenue for your holiday light show. In some situations, this might be your only source of revenue.
Our template assumes a rate of $30/car, a common fee among our customers. Our template also assumes 12,000 cars will visit the light show over the holiday season.
Additional Considerations for Attendance Revenue
The first time you build your budget, charging a flat attendance rate is simplest. However, here are some common ways to make your financial model more granular:
Upgrades for vans or other vehicles with more than six people. This is ideal if you're expecting traffic from nearby senior living communities.
VIP rates. If your event has substantial traffic, creating a VIP line with a reasonable upcharge goes directly to the bottom line. Benefits can vary, but the most common VIP benefit is a "fast pass," whereby vehicles can use a separate lane to enter your display more quickly.
Season passes. Many holiday light shows plan on generating repeat business from customers. For our template, we've assumed that an additional 2,000 vehicles will pay $40 for a season pass. PRO TIP: Season passes work better if you have substantial concessions displays that encourage community mingling!
Revenue Factor 2: Sponsorships
The unique nature of holiday light shows coupled with the positive impact on the community generally result in significant revenue generated through the sale of sponsorships. Our template assumes sponsorship revenues equivalent to 20% of total ticket revenues. Simply put, the more traffic you have, the more you can comfortably charge for sponsorships. In fact, the most established holiday light shows often find that sponsorships and concession revenue can equal ticket sales. Keep reading for further details on developing sponsorship revenue.
Something for Everyone
In the following section, we'll outline different options for sponsorships. It is important to offer different categories of sponsorships. Particularly in your first year, it's difficult to know the amount sponsors will be willing to pay; therefore, you'll want to offer options. You'll want to package or bundle your offerings relative to price. Here are some elements that are commonly offered to sponsors.
Signage, flyers and all event promotion. These will serve as the core of your sponsorship. Wherever you're talking about your event, you'll want to give your sponsors visibility as well. Typically, sponsors who pay more will either be named in more locations or have larger-sized logos.
Focused promotion. Most light shows will have a cornerstone display – something with a bit more wow factor designed to stand out from the beauty of the entire event. Cornerstone displays are the attractions that make people slow down – or even stop – to fully appreciate them. For sponsors, this offers an ideal place for bold signage highlighting that their organization contributed to the cornerstone display. Over time, this is the type of display that people will remember the most, so attaching a sponsor to it makes for powerful marketing.
Presenting sponsorships. Rather than cobbling together a few dozen small sponsors, it can be simplest to find a single, presenting sponsor willing to pay a premium for exclusivity. Given that most holiday light shows are run by volunteers, this single sponsorship can save your organization significant time in sponsorship selling. After all, there's a reason most sporting event stadiums have a corporate sponsor in their name; it's valuable. Your event will offer similar value.
Naming rights. Similar to a presenting sponsorship, some organizations will sell naming rights to various displays along the route. Not only does this increase the number of ways to generate revenue, but it allows for growth over time.
Revenue Factor 3: Concessions
Concessions drive substantial revenue for many displays. Snacks, cocoa, and even holiday gift booths tied to your event encourage lingering, bolstering the community appeal of your light show. (As we've said, this is key for those seeking to sell season passes.) Concessions also offer you a crucial third leg to your revenue platform – one that we've added to our template – equivalent to 20% of traffic revenue. Similar to sponsorships, well-established light shows have the potential to continue to grow concession revenue over time. Many light shows will generate a full third of revenues through concessions.
If you're bringing in outside vendors, it's typical to charge a reasonable stand fee. Or, if your organization wishes to have their own concessions, sales from those items will also contribute to top-line revenue.
Significant concession revenue requires the commitment to having your event be as much of a walk-around event as a drive-through, so you'll want to plan your event with the additional safety and logistics in mind.
In Conclusion: Revenue
Through ticket sales, sponsorships, and concessions, you will be well on your way to generating a lot of revenue for your organization. This revenue will help offset the costs associated with hosting a holiday light display.
In the next section, we'll review the expenses that we've accounted for within our free template. Fill out the form for immediate access to the template!
Ready to build your holiday light show business plan? Download our free template NOW! 
Holiday Light Show Business Plan: Expenses
While it's exciting to plan for all of the money your event will bring in, there's no such thing as a free lunch. What follows are the key expenses related to holiday light shows that you'll want to plan for in advance.
Expense Factor 1: Labor
Your successful holiday light show will require a team of people working diligently prior to and during the event. Long before the lights are strung, someone will need to be selling sponsorships. Once opening day arrives, you'll need additional helpers: parking attendants, people to work the concessions, and more.
Hopefully, you have a robust group of volunteers that can minimize these costs. Partnering with other service organizations to pool volunteers can be useful as well. Still, you may need to hire professional personnel, such as security guards or a DJ. Chances are, your event will require paying for some labor. That's why our template assumes $10,000 for the season.
Keep in mind that most paid labor charges for their time, regardless of how busy you are. With this in mind, consider reducing your labor costs during lower traffic days early in the holiday season. Often, first-year light shows may open just three to four days per week until they've established a good track record. Limiting labor costs is often a key driver for this decision.
Expense Factor 2: Electricity
While most attendees won't notice the paid security attendants or the efforts that go into staffing concessions, there will always be folks who comment about the massive electric bill accompanying a lit display. Surprisingly, electricity is usually the smallest expense associated with holiday light shows. Our template assumes a $5,000 cost for the entire season. Here's why:
The advent of LEDs has changed the game for holiday light shows. This new technology consumes dramatically less power than the lights of previous generations. LED's are beneficial for the environment – and for your bottom line!
The perfect way to minimize the energy consumption of your event is to include Holiday Outdoor Decor's Carbon-Neutral displays. These types of displays complement environmentally-conscious brands' positions particularly well.
Expense Factor 3: Marketing
Simply put, marketing is how people find out about your event. In your earliest years, you'll need to do a lot of marketing. Though marketing costs can be minimized, in many cases they can't be eliminated.
For instance, if you can secure a "media" sponsor, they might provide free messaging in exchange for prominent placement in your signage. It's a great idea, if feasible. In fact, media companies get similar requests often and they are unable to accept all of them. While your sponsorship team should absolutely try to secure these reciprocal relationships, realize that you may have to pay for exposure.
Similarly, most events utilize social media for promotional purposes. But while holiday light shows are very Instagram-friendly, expanding your reach on social media may require paid promotion.
From flyers to websites and more, the ways you could spend marketing money are many, and that is why our template assumes you'll need $10,000 to do it right.
Expense Factor 4: White Glove Service
Many customers will turn to Holiday Outdoor Decor for our white-glove service. This includes complete storage, installation and tear-down of your event and ensuring that 100% of your bulbs are glowing. These customers save mightily on labor and the labor is carried out by people who've done this work for exhibitions all around the country.
Anyone who's ever strung holiday lights knows that the process of unpacking, re-bulbing, and stringing lights, is a time-consuming process. Add even more time and labor to take them down and store them securely until next year. In short, it's a big job.
Holiday Outdoor Decor's white-glove service will save you time and manpower. Here's the bad news: this type of all-inclusive service does not come at a small cost. Here's the good news: it's entirely within your control.
The fewer options you have for storage and the smaller number of volunteers you have prepared to help, the more you'll want to consider professional installation and tear-down. Our template assumes you want it and incorporates the $90,000 cost.
While it might be tempting to remove this number, keep in mind the labor and costs incurred by taking on these tasks. You will need to raise your labor rates accordingly and/or account for storage costs and display upkeep.
Expense Factor 5: Amortization
We've saved the biggest expense for last, but no worries! There are many ways to minimize your costs.
The base price of your display is plugged into our amortization table, which assumes a five-year payback period. Our model also assumes a simple interest rate loan for the display at 4%. Feel free to experiment with either.
Our amortization model includes an input for total display cost. We've used $660,000, as it's representative of many displays that generate similar traffic and sales. As you can imagine, scaling up the display would be appropriate if your event has a larger footprint. Conversely, a lesser display might be fine for smaller venues. Of course, many customers might start smaller and build inventory over time.
Many clients prefer to lease rather than own their displays from Holiday Outdoor Decor. Due to exposure to the elements, it's sometimes preferable to think of oudoor holiday displays as operating, rather than capital, expenses. Moreover, tax benefits from leasing sometimes apply. Check with your accountant first!
Whether you lease or purchase, our template has been designed to make it easy to apply different scenarios to customize your situation.
Holiday Light Show Business Plan: Conclusion
We hope this guide has provided you with a better understanding of the common ways our customers generate revenue through a holiday light show. Still, it would be wrong to consider these events to be cookie-cutter. By design, your display will be unique.
When you're ready to learn more, please reach out to Holiday Outdoor Decor for assistance in building your own event.
Ready to build your holiday light show business plan? Download our template NOW!