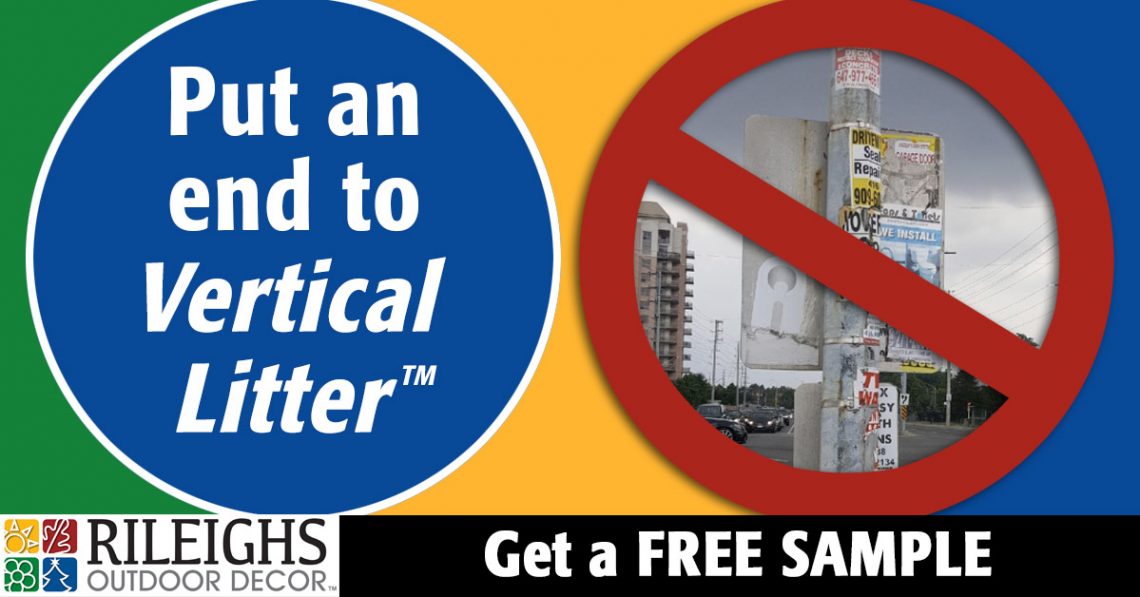 Streetscape Design to Beautify And Protect
Looking to eliminate unsightly graffiti on your main street? Look into products used by streetscape design professionals to preserve your historic and decorative light poles, street signs, utility and telecom boxes, garbage bins, and more!
Drive or walk through just about any downtown or park and you'll be greeted with unsightly graffiti, such as stickers, posters and flyers either taped or glued to street-side structures. Besides being unattractive, they can be a financial burden to your community. A lot of time, money and other resources are spent on removing them, only to see them reappear again.
FACT: Graffiti is costly. It's estimated that $1 to $3 per taxpayer, per year is spent by communities, public transit departments, residents and businesses to remove graffiti or repair the damage it causes. Effective streetscape design saves money.
FACT: When left untouched, graffiti sends the wrong message. This negatively affects property values by as much as 15% and often leads to more serious crimes.
FACT: Graffiti hurts business. Many people associate graffiti with the general decline of an area, even if it is not true. Merchants often lose business because customers feel the neighborhood or shopping area is no longer safe.
Source: Gwinnett Clean & Beautiful Services, Inc. (GCB) is a private, non-profit 501(c)(3) charitable organization whose community-based network focuses on finding long-term solutions to environmental and quality of life issues.
Introducing Bella Anti-Stick Wrap & Paint – Adhesive Resistant, Street-Branding Solutions
Bella Anti-Stick Wrap & Paint are the only Vertical Litter™ management solutions for streetscape beautification and protection, of any size and type of street-side or park structure, such as:
Light poles
Street signs
Utility and telecom boxes
Garbage bins
And more!
Bella Anti-Stick Wrap
We've got you covered!
With over 5,000 unique applications, the visual impact of back-to-back street poles wrapped in consistent imagery is not only attractive, but a great marketing tool. In fact, some customers use Bella Anti-Stick Wrap purely for the benefit of its unique streetscape beautification and branding solutions.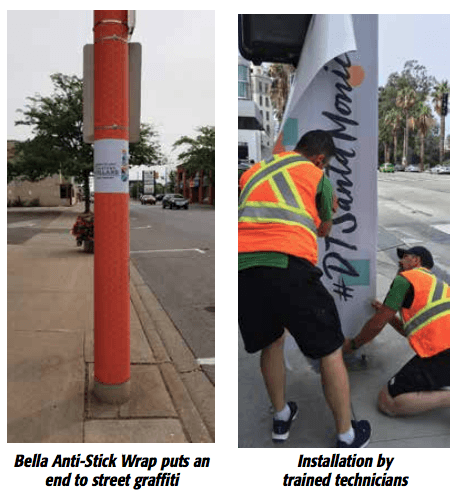 Bella Anti-Stick Paint
Preserving your Investment!
In every major city, you are likely to find intersections covered with unsightly flyers and stickers. These solicitations are for one purpose only, to distract drivers. Our municipal customers use a common gray paint color to stop the flyer and sticker assault, resulting in a safer driving experience for all. Unfortunately, historic and decorative light poles are on the receiving end of Vertical Litter™ as well. Bella Anti-Stick Paint is the perfect solution for these expensive and beautiful, ornate poles.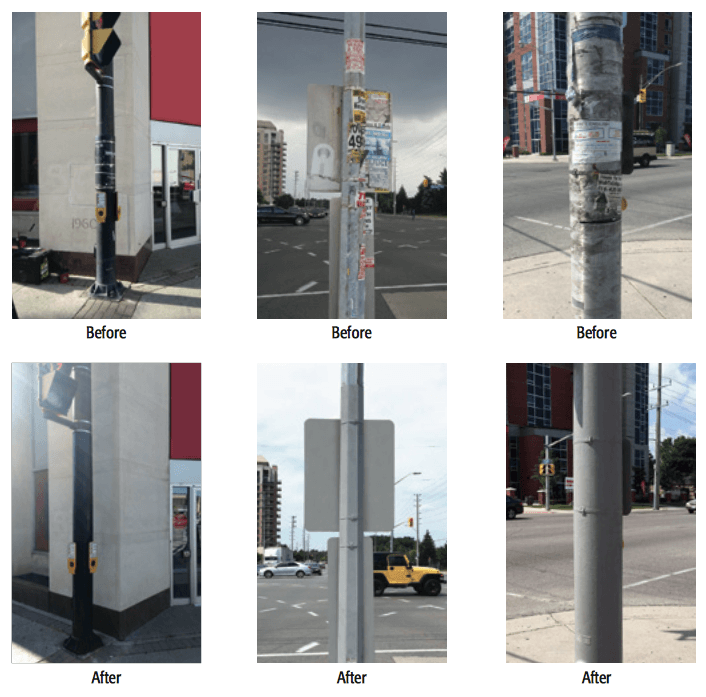 Streetscape Design and Installation
If you're thinking this will be a time-consuming and difficult process, we've got good news for you. We'll measure your poles, and provide a custom-designed, uniquely branded, wrap for your community celebration or event. And, we'll even install them for you by our trained technicians. Or, if you need them painted instead, we'll match the colors you want. It's that simple!
In Business since 1921, Holiday Outdoor Decor is the specialist in the commercial outdoor decorations business. It starts with our friendly and knowledgeable staff, and the best quality products to ensure your investment will serve the needs of your community for years to come.
Holiday Outdoor Decor White Glove Service – From consultation through installation and beyond!
On-site design consultation
Takedown
Installation
Storage
Maintenance
Holiday Outdoor Decor provides the complete package of installation services to most of Pennsylvania, New York, Maryland, and all of New Jersey, Delaware, and Florida.